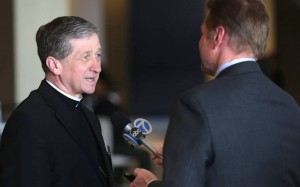 That's the thesis of writer Charles Camosy, who offers some analysis of Blase Cupich, based on his own writings. Camosy concludes the archbishop-elect is neither liberal nor conservative.
But he is, in his way, radical.
He sums it up:
In addressing his fellow bishops Cupich said, "A prophecy of denunciation quickly wears thin. We need a prophecy of solidarity with the communities we serve and the nation we live in, which needs healing." And if anyone doubts this bishop's pro-life credentials, check out his recent homily on Respect Life Sunday:
The truth will win out and we have to believe that a nation whose collective heart can break and grieve for babies slaughtered in Newtown has the capacity and God's grace to one day grieve for the babies killed in the womb.
So we know that the new Archbishop of Chicago is no moderate. But he's no conservative either. For those working with two-dimensional, binary categories it must follow that he is…liberal? Not at all. Check the final line of his speech from the conference mentioned above:
John Paul II told us what to do; Benedict XVI told us why we should do it; Francis is telling us – "Do it."
I take it that JPII and B16 were not liberals. Cupich, like our three last popes, is magenta.

And anything but a Goldilocks moderate.
Read the whole thing. It offers a window into the mind of the man who will be leading Chicago's Catholics.