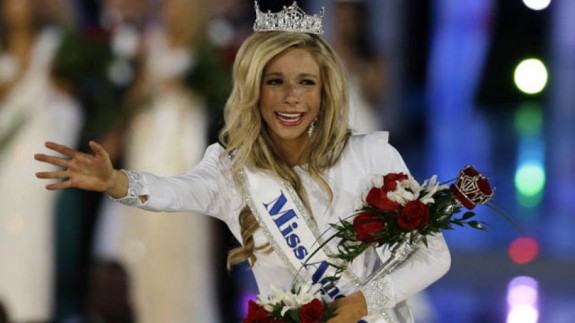 This is what we have come to.
Miss America Kira Kazantsev was reportedly kicked out of her Long Island college sorority for abusive hazing.

According to Jezebel.com, the newly crowned pageant queen was kicked out of Hofstra University's Alpha Phi sorority last year after allegedly hazing pledges.

The report maintains that pledges were called names, criticized over their appearance and made to perform physically difficult tasks to the point of exhaustion.

"Kira has been fully transparent with the MissAmerica Organization about her termination from the Alpha Phi sorority," a Miss America Organization spokesperson told FOX411. "It's unfortunate that this incident has been exploited to create a storyline that distracts from what we should be focusing on: Kira's impressive academic achievements at Hofstra University, including earning a triple major from the Honors College and her commitment to serving her community. Kira is an exceptional ambassador for the MissAmerica Organization, and we are excited to be a part of her journey as a force for good across our nation, promoting education and service and working to empower young women.

This isn't the first scandal for Kazantsev. She sparked controversy when it was revealed that she once participated in a three month internship for Planned Parenthood.
Significantly, the Miss America Organization's statement does not refute or deny the report. So they knew about "her termination from the Alpha Phi sorority" just last year, and decided it just wasn't a problem. Good to know. You can disrespect life—both born and unborn—strip people of human dignity, and still become America's sweetheart.
As Bert Parks told us so often, year after year:
There she is, Miss America
There she is, your ideal
The dreams of a million girls
Who are more than pretty
May come true in Atlantic City
Oh she may turn out to be
The queen of femininity
There she is, Miss America
There she is, your ideal…
There she is, your ideal.
Aren't you proud?