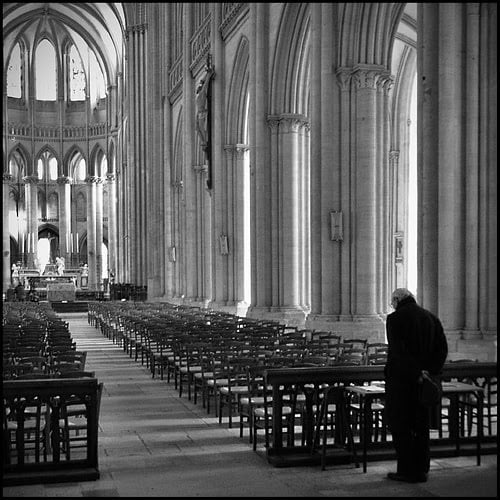 The Diocese of Springfield in Illinois is getting some interesting answers:
Professors Phillip Hardy, Kelly Kendra and Brian Patterson surveyed 575 lapsed Roman Catholics from November 2012 to March 2013, asking them why they had stopped attending Mass or had left the church altogether; what might motivate them to return; and whether the church's stance on issues like homosexuality and abortion had factored into their decision.

Meanwhile, from February to March 2014, 827 Roman Catholics still active in the church were asked about whether their spiritual needs were being met.

Results from the survey released last week indicate four major reasons why some Roman Catholics stop going to church, among them: Disagreement with church doctrine on birth control, women as priests, homosexuality; A view that there are too many scandals in the church; A feeling parishioners are being judged by the church or are not welcomed.

Here's a sampling of some of the comments left by lapsed Roman Catholics completing the survey:

— "My daughter came out to me as gay, and I went through a divorce after 28 years of marriage. The Church doesn't want either one of us."

–"Being divorced they do not let you take communion. Treat you like an outsider. But they allowed priest [sic] that they knew were bad to stay in the church."

— "The archaic idea that only men can lead a congregation and be in the clergy, the underlying message of guilt and fear and the lack of diversity and openness to gays."

— "I struggle with the way the Catholic Church has not adapted an ever changing world. I also feel sometimes people are looked down upon instead of being lifted up by the church."

— "I have visited many parishes in the Springfield community trying to find a priest that seems dedicated to his parishioners and the word of God. All of the priests seem too wrapped up in themselves and the 'power' they perceive they hold. They all seem more wrapped up in themselves, much like politicians."

— "My parish was a cold place. You could walk in on Sunday, go to mass and walk out without speaking to another soul, I longed for fellowship."
Read the full survey results here.