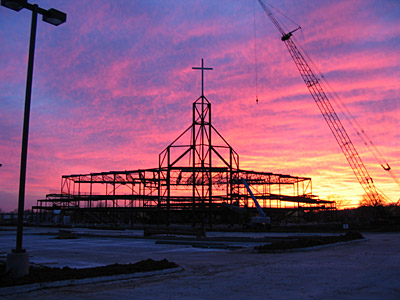 Americans aren't building churches like they used to anymore.

Construction of religious buildings in the U.S. has fallen to the lowest level at any time since private records began in 1967. Religious groups will build an estimated 10.3 million square feet this year, down 6% from 2013 and 80% since construction peaked in 2002, according to Dodge Data & Analytics. In terms of dollars, spending on houses of worship totaled $3.15 billion last year, down by half from a decade earlier, according to Commerce Department figures.

As the economy heals, churches, synagogues, mosques and temples may move forward with renovation and expansion projects put off during and after the recession. But church-building began to ebb well before the latest downturn.

Behind the decline is a confluence of trends: a drop in formal religious participation, changing donation habits, a shift away from the construction of massive megachurches and, more broadly, a growing taste for alternatives to the traditional house of worship.

"There's been an awakening: If we can put more resources into ministry and not into infrastructure, it's a better use of those resources," said Sing Oldham, spokesman for the Southern Baptist Convention, the largest Protestant denomination in the U.S…

…The trends are far from universal across regions and faiths.

Booming Catholic dioceses plan to build new cathedrals in Raleigh, N.C., and Knoxville, Tenn., while shrinking Catholic parishes in Northeast cities like Boston and New York and Philadelphia are closing or even selling churches.

Muslims and Mormons have seen strong growth even as the Lutherans, Presbyterians, Methodists and other mainline Protestant denominations have shrunk, according to the Association of Statisticians of American Religious Bodies.