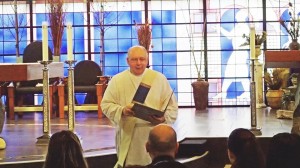 You may remember the link I posted several days back, about a Florida deacon who wrote about accepting his LGBT child.
Deacon Ray Dever dropped me a cordial and appreciative email over the weekend. But he took issue with how his essay was framed. Among other things, he made this distinction:
You responded to my article with some citations of familiar Church teachings about same sex marriage and homosexuality. I think it was clear, but I just wanted to reiterate that my article was not about same sex marriage or even homosexuality. The word marriage doesn't appear anywhere in the article. With respect to homosexuality, my article was primarily about my family's experience with our transgender daughter. We have learned that being transgender is not synonymous with being homosexual. And I'm still learning, but I think it's important if we want to be credible when we discuss these issues in the Church that we understand the distinctions between gender orientation and sexual orientation, as well as other LGBTQ expressions.

And as we prayerfully and humbly reflect upon and discuss these issues, I hope that we can do so without automatically casting the discussion in terms of the sinfulness of homosexual activities, such as your citation of the Catechism prohibitions.
You can read more about transgender issues here and read one Catholic response here.
I think there's a lot here that most of us just don't know—including the medical and psychological professionals who are gazing at these issues under a microscope. Remember in prayer those families who are living with these concerns as they continue to seek understanding, healing and peace.