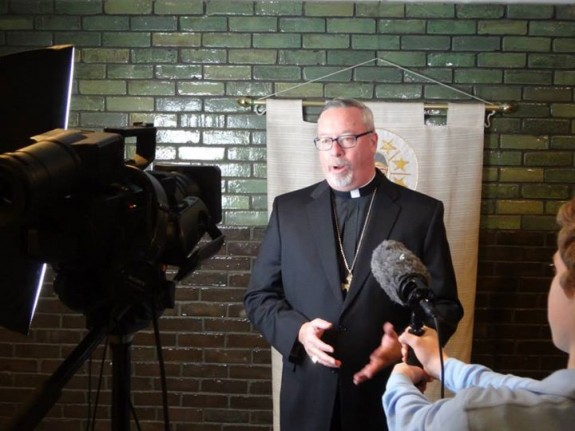 As Burlington's new bishop gets ready for his installation on Thursday, he's continued blogging—and posting some unusual videos.
The guy is a social media junkie. I'm not aware of any other bishops doing something quite like this: brief "On the Road" segments, that he evidently shoots with a small camera in his car as he's driving around.
I gotta say: I love this.
What does Bishop Christopher Coyne think about while he's driving around? Take a look.
UPDATE:  Meanwhile, also on his blog, Bishop Coyne posted this brief video of himself fulfilling an ancient tradition Wednesday: arriving at the door of the Cathedral of the Immaculate Conception and—forgoing hammer or crozier—just pounding on the wooden door and asking to be let in.
The local paper has full coverage of the vespers service, including the text of his homily, which says in part:
I am especially glad to have joined in prayer with my brothers and sisters within the ecumenical and interfaith communities. I am aware that this cathedral is only one of many places of worship within this city, places where prayer and worship are lifted up to God, places where charity is encouraged and enacted, places where the human person reaches for an encounter with the Divine. With the representatives of the Christian churches and communities I join this week in a time of prayer for unity among Christians, praying in the words of Jesus Himself "that all may be one." While there are things that divide us, there are also many things that unite us, most especially our love for the Lord Jesus Christ, our Savior. To my colleagues in the interfaith community, the shared belief we have in the Divine One and the common mission of care for the poor, sick, and needy in our midst unites us in charity and honors the One that we serve. I pledge myself to work with you on those things about which we agree and speak the Catholic Church's faith to those matters about which we disagree.

I am not a politician. I am a pastor. I am not a policy-maker. I am a preacher and teacher of the Catholic Faith. My desire is to teach what the Church teaches, to preach the Good News of Jesus Christ, and inform the consciences of my fellow Catholics about what we believe and why we believe. While I always seek to foster the common good of all, I recognize that I do so as one within a diverse and multi-faceted culture of which the Catholic Church is only one faith among many.
Photo: from Bishop Christopher Coyne's blog, Let Us Walk Together