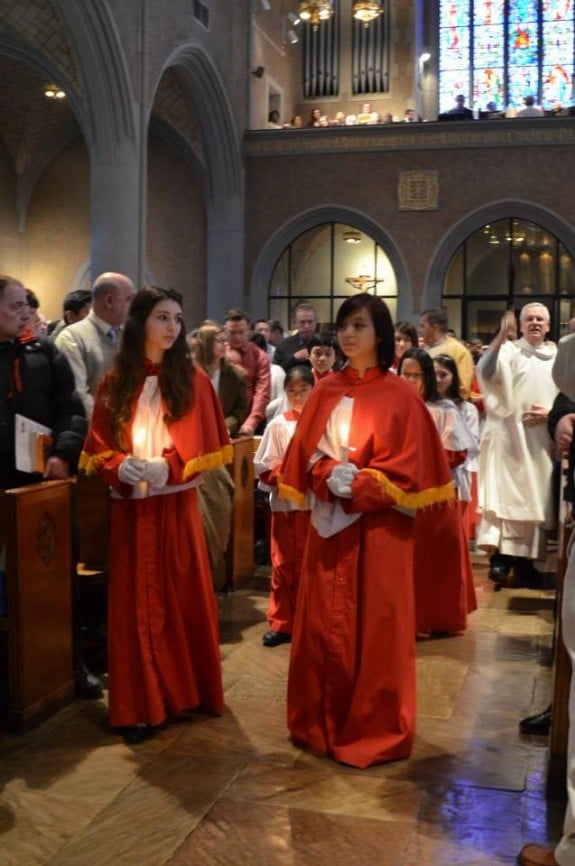 As you may have heard, Cardinal Raymond Burke is not a fan of female altar servers:
It seems clear that many men are not being drawn into a deeper liturgical spirituality; today, many men are not being drawn to service at the altar.

Young men and men respond to rigor and precision and excellence. When I was trained to be a server, the training lasted for several weeks and you had to memorize the prayers at the foot of the altar. It was a rigorous and a carefully executed service. All of a sudden, in the wake of Vatican II, the celebration of the liturgy became very sloppy in many places. It became less attractive to young men, for it was slipshod.

The introduction of girl servers also led many boys to abandon altar service. Young boys don't want to do things with girls. It's just natural. The girls were also very good at altar service. So many boys drifted away over time. I want to emphasize that the practice of having exclusively boys as altar servers has nothing to do with inequality of women in the Church.

I think that this has contributed to a loss of priestly vocations. It requires a certain manly discipline to serve as an altar boy in service at the side of priest, and most priests have their first deep experiences of the liturgy as altar boys. If we are not training young men as altar boys, giving them an experience of serving God in the liturgy, we should not be surprised that vocations have fallen dramatically.
Over at America, Kerry Weber leapt to the defense of girl servers, recalling her own time as a young girl at the altar 20 years ago:
Here is some of what I learned.

The church is accessible. In order to serve at the church, I didn't have to be anyone other than myself. When I became an altar server, I felt more comfortable climbing the steps to the altar, not because it lost its mystery, but because being there helped to deepen my experience of the Paschal Mystery. The space became at once more familiar and more sacred. I felt at home in my church in the best way possible.

The church is tangible. The church is not simply an idea; it exists through individuals and through sacraments and sacramentals. As an altar server the objects and symbols that accompany the sacraments became real to me. I learned to swing a thurible; I learned the difference between a purificator and a corporal, and a chalice and a ciborium. I learned that these words and objects were part of a faith that has a vast and fascinating history, vocabulary and tradition—and that I was part of that history.

In all things, humility. As predicted, I did at times feel "important" while serving on the altar. But most days I simply felt grateful to be part of something more important than myself. I was humbled every time I held the book aloft to be read, carried the unconsecrated hosts to the altar so they could be transformed, poured out the water that washed the priest's hands, rang the bells at the consecration. I grew in my faith as I learned about and participated in the many small, sacred actions that surrounded and celebrated this banquet.

Priests are people, too. I learned that priests forget where they put the keys to the rectory or where they left the Sacramentary. They don't always understand how microphones work or which light switches turn on the lights by the altar. They sometimes can be rushed or late or grumpy. They also can be hilarious, kind, encouraging, enthusiastic and thoughtful. In short, they are just like everyone else. Knowing this also meant that, later, when I learned about the horrible crimes of sexual abuse by members of the clergy, I could mourn the failures of our church and work to correct them knowing that many good priests I had met along the way were doing the same.

The church is communal. One of the most coveted gigs as an acolyte was to serve at a wedding. This was in large part because each server typically got $20 from the happy couple. But I also found joy in the fact that I got to hold the wedding rings while they were blessed, to see the dresses up close and, most importantly, to contribute in a small way to the celebration of two people committing to a lifetime of love. I felt honored to be a part of a faith community that supported such a commitment.This sense of community also was reinforced by the chance to look at the faces of the congregation from the altar. I was especially moved every year at the Easter Vigil, during which each face was lit by a candle, from the front pew to the choir loft—and to see in each one the Body of Christ.
There's much more, and I'd encourage you to read it all.
Over the last decade or so, I've been privileged to serve at a parish with both boy and girl altar servers. What I've witnessed speaks to the value and vibrancy of a program that welcomes both genders, and imparts valuable lessons for living. It could serve as a model for other parishes.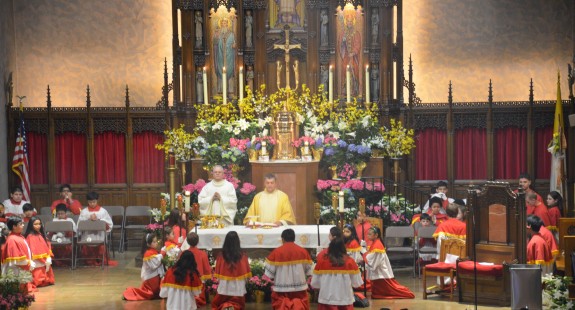 We have, at last count, about 130 servers. They are almost evenly divided between boys and girls—50/50—so there's no evidence boys don't want to be serving with girls. The kids join in fourth grade and many stay through high school—some, even, into college. Anyone who wants to serve is welcome. Their commitment is extraordinary. On a brutal Friday night in the middle of winter, it is not uncommon for 12 or 15 kids to show up, eager to serve as acolytes and assist at Benediction for Stations of the Cross; Good Friday, we get 20 or more. Easter and Christmas includes a parade of 40-50 of them. Regular Sunday Mass? At least four, usually six, sometimes more. David James, the moderator, has developed a system that teaches, uplifts, inspires and motivates. He's written about it extensively here at The Bench. It just works. For big liturgies, he doesn't even need to schedule kids. They just show up. And they love it.
Cardinal Burke evidently feels this discourages vocations to the priesthood. I'm not aware of any study that has shown this conclusively—and I am not aware of any layman who has said, flat-out, "I would have become a priest, but was repelled by the idea of girl altar servers." I think this notion feeds into the idea of the altar servers as a farm team for the priesthood—when, as most now agree, the place where the vocation is best nourished and cultivated is really the home. The domestic church supports the Universal Church.

Most importantly, I think, service at the altar helps foster a life of Catholic holiness among the young. That life of holiness is not something exclusive to the priesthood. (More on that later.) If there are female graduates of our program who are disappointed or frustrated because they will never be priests, I haven't heard about it. It's just not an issue.
Meantime, above and beyond the benefits Kerry Weber has described, I've noticed a few others.
There is safety in numbers. In a city like New York, temptations abound. Kids don't have to look far to find trouble on a Friday or Saturday night. The Altar Server Society at our parish serves as a kind of "alternative gang" for young people. Their parents don't have to worry about what they're doing or who they're hanging out with. The group also has become a vibrant adjunct of our parish Youth Ministry (also moderated by David James, who doesn't have nearly enough to do.)
There are lessons to be learned. Kids who serve at the altar learn responsibility, collaboration, problem-solving—and liturgy. The older ones are responsible for the younger ones and help teach them the nuances of being "on ceremony," managing incense, lighting torches, and staying out of the way of the swinging thurifer (or the wandering deacon). And they spend an hour every Sunday near the pulsing heart of the very center of our faith, the Eucharist. There is simply nothing like being only inches away from the greatest prayer in the world and the greatest ongoing miracle in human history. Grace abounds.
Boys and girls discover how to work together. Being part of a large and expansive group of kids from varied backgrounds, ethnicities, ages and genders, the altar server group is really a melting pot. There is something to be said—and something important to learn—from having boys and girls work together, and pray together, week after week in the service of the Lord. The kids I've observed are happy to be a part of this collaboration, and I haven't seen boys recoil from girls (or vice versa). They are bound together by the commonality of faith—and by being part of something exceptional and sacred. I think it was St. Benedict who described the monastery as a "school of charity." So it is, I think, with the altar servers.
Attract the kids and you attract the parents. This may be one of the best benefits of all. When kids have to be at Mass every week, so do the parents. Instead of hauling the kids off to soccer practice, they're driving them to church. And staying for the liturgy. And waiting for them after. Mothers and fathers who might have been, perhaps, indifferent Catholics and casual church-goers are finding themselves in the pews week after week, being fed by the Word and the Body of Christ. (And many parents—especially mothers—are overwhelmingly supportive of our altar server program precisely because it does include both boys and girls, and imparts the lessons outlined above. They see their kids developing happy and healthy friendships, all under the watchful eyes of the Church.)
There are vocations being formed. But perhaps not the kind Cardinal Burke prefers. I remember something a priest friend said to me years ago, after I stopped a Eucharistic Minister after Mass and encouraged him to consider the diaconate. "You know," he said. "We need religious vocations. But everybody doesn't have to be ordained. We also need good Catholic lay people." Pope Francis said something about this not long ago, describing our pathological impulse in the Church to ordain everyone and clericalize everything. But what I've witnessed in our altar server program speaks to another stream of vocations that is increasingly crucial to the life of the Church and the sustainability of the parish. And it's this: the kids who serve at the altar later serve the Church in other ways. They stay involved and keep going to Mass. I know of at least three former altar servers who are hoping to become deacons. And many of the boys and girls who once carried the cross in procession now serve as lectors, EMHCs, choir members, fundraisers or members of the parish council. They are becoming something we don't see nearly enough any more: good, faithful, observant Catholic mothers and fathers—and a lot of them are now seeing their own kids become altar servers. The story goes on. The faith continues and endures.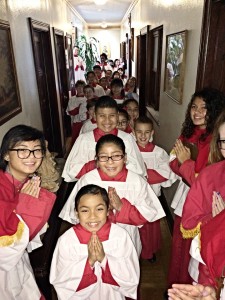 I know there are many arguments out there for male-only service at the altar, and Cardinal Burke makes a compelling and impassioned case. Most of it revolves around this ministry's connection to the priesthood. But there are other points to consider, too.
And I'll emphasize: These are just observations from my experience. Your mileage may vary. (UPDATE: Reading over this, I realize that I neglected to mention the most important altar girl of all: my wife. She reads and serves at the 12:05 Mass at our parish every Tuesday-Saturday.)
UPDATE: I was curious to find out more about dioceses that don't have female altar servers. Wikipedia pointed me to this interesting fact, from USA TODAY in 2006:
The Roman Catholic Diocese of Lincoln, Neb., is the only one in America that prohibits altar girls in church after a Northern Virginia diocese dropped its ban this week.

In Arlington, Va., Bishop Paul Loverde of the 67-parish diocese ended the restriction Tuesday, almost 12 years after Pope John Paul II granted bishops permission for altar girls. Only Bishop Fabian Bruskewitz of the Lincoln Diocese still forbids girls from serving at Mass.

The 193 other Catholic dioceses and archdioceses in the USA already allowed the practice. The use of altar girls since 1994 ended a centuries-old custom of male-only participation in the church's most sacred ritual.

Loverde said his decision, which could result in altar girls at some churches by Sunday, may help young women hear "the Lord's call to religious life" as nuns.

Bruskewitz, whose diocese includes 136 churches and 89,412 members around Nebraska's state capital, believes having only boys at the altar helps recruit them to become priests, said the Rev. Mark Huber, chancellor of the diocese.

"It's pretty obvious that Rome is allowing each bishop to make (his own) decision," Huber said. He said Bruskewitz's practice has helped boost Lincoln's "exceptional number of vocations to the priesthood."
What this means, practically speaking, is that dioceses with girl altar servers are producing vocations. Mine is one of them. In 2014, we had the largest ordination class in the United States.
A 2012 study took a closer look at the disparity among dioceses involving ordinations to the priesthood, and concluded it all comes down to the bishop:
A simple correlation of the most recent data on diocesan ordination rates…reveals that future research in this area may yield some answers about whether bishops may indeed have an impact on ordination rates. The indicator we used is the listing of the names of the 83 bishops who signed the bishops' formal statement expressing disapproval of the University of Notre Dame's 2009 invitation to President Barack Obama to give the commencement speech and receive an honorary law degree. The bishops protested the honors given to President Obama because of the president's support for legislation designed to expand access to abortion both here and abroad.

Many of the 83 bishops who signed the 2009 statement also lead dioceses with the highest ordination rates in the country. Among the signers are the leaders of the following ordination-rich dioceses: Austin, Bridgeport, Camden, Chicago, Cleveland, Detroit, Ft. Wayne-South Bend, Indianapolis, Lincoln, Newark, New York, Brooklyn, Philadelphia, Rockville Center, Rockford, St. Louis, St. Paul-Minneapolis, San Antonio, Springfield-Cape Girardeau, Toledo, and Washington, DC.
There's a lot that's unknown about all this. But this much I know: we have hundreds of faithful young Catholics out there in the world today because of the boy and girl altar server program that has been in place at my parish. They love their faith. They love their Church. They're living it and passing it on.
All photos from Our Lady Queen of Martyrs website by Rosalind Chan