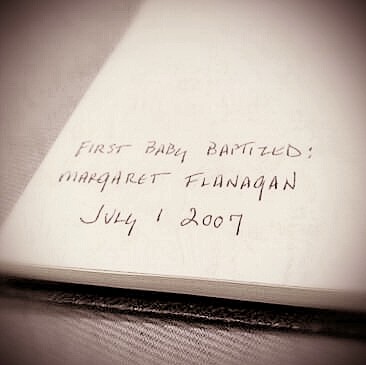 From the vault, part of my homily for this weekend, marking the Baptism of the Lord, in 2013:
At home, I have a little green book that someone gave me as an ordination gift: it's the Rite of Baptism for Children, with all the prayers and readings for the sacrament. In the back, there's a notation I scribbled on the inside cover: "Margaret Flanagan. July 1, 2007. First baby baptized." I wrote that down in the book so I'd never forget. It was a big day for Margaret – and for me.

Of course, the biggest day for baptism is the one we've just heard in the gospel: the baptism of Jesus. I don't know that John the Baptist wrote it down in the back of any book. But we do have this account in the gospels, and we hear it once again and are reminded: this is where it all began.

Baptism was the beginning of Christ's public ministry – and for the rest of us, our own baptism marks the beginning of our own lives as Catholic Christians. Most of us were baptized when we were infants, so we don't remember it. And the chances are, if you have been a part of a baptism – as a parent or a godparent or just a relative looking on – there's a lot going on that you may not have noticed.

This Sunday, the feast of the Baptism of the Lord, is a good opportunity for us to notice what we may have been missing – to look beyond the water and the oil and the prayers and the crying babies and the christening gown that was worn by your great grandmother's second cousin. This feast is a chance to reflect on what this sacrament means —and, in particular, how it is celebrated.
Read on for the "Three C's" of baptism: creation, commitment and community.