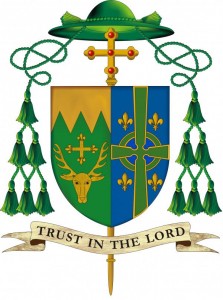 From The Burlington Free Press: 
The Most Rev. Christopher Coyne, the Roman Catholic Church's first blogging priest to be elevated to bishop, has been formally installed as the head of the statewide diocese of Burlington.

More than 900 people jammed into St. Joseph Co-Cathedral in Burlington for the Installation Mass., which was broadcast internationally both on cable television and livestreamed on a couple of websites.

Coyne said the church needs to shift from a "church of the establishment" — where worshipers come to it — to a "missionary church" that goes out and engages a wider community.

"Now more than ever, our community needs to hear the call of the 'Good News' proclaimed to a culture that seems to hear many other voices," said Coyne, who mostly recently served four years as auxiliary bishop in Indianapolis.

"No one wants to join a church that lacks joy. When people who leave the Catholic Church to join other churches are asked why did you do so, the No. 1 answer is 'They made me feel welcome' followed by 'I find the services joyful and uplifting,'" The 56-year-old Massachusetts native said.

If we are going to call people to our churches and they do happen to come in, what are they going to find? People who have the joy of the 'good news' in their hearts, people who are welcoming and encouraging, who celebrate the Church's liturgy with care and commitment or a people who 'mourn their religion.' Friends, both inside and outside we have to be about the 'Good News.'"
Video of the homily, from Bishop Coyne's Facebook page (via Rocco), is below. Read the full text here.