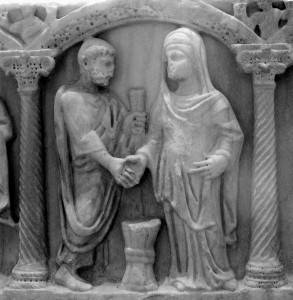 Facing millions of divorced Catholics around the world, many of whom express frustration over their status in the church, the Vatican has begun a remarkable re-examination of the church's treatment of worshipers whose marriages have broken apart.

Pope Francis, who plans to make his first trip to the United States in September to attend a conference on families, has acknowledged the concerns of divorced Catholics. He has set in motion a high-level debate about whether and how the church could change its posture toward them without altering a doctrine that declares marriage to be permanent and indissoluble.

The battle lines are clear: Some high-level church officials, most notably the conference of German bishops, want the church to relax its rules so that divorced Catholics can more fully return to church life, particularly by receiving communion, even if they have remarried. Traditionalists arepushing back fiercely, arguing that the indissolubility of marriage is ordained by God and therefore nonnegotiable.

In October, bishops from around the world argued about divorce, among other topics, at a synod on family issues; this October, a larger group of bishops will meet for a second Vatican synod at which they will decide whether to recommend changes. The decision of whether to act, then, will be up to Francis.

Watching closely are many of the Catholics whose marriages have fallen apart. An estimated 28 percent of American Catholic adults who have ever been married have since divorced, according to the Center for Applied Research in the Apostolate at Georgetown University. That rate is lower than in the general public, but still constitutes 11 million people, the researchers said.

For many divorced Catholics, the church's approach raises an existential question, said Helen Alvaré, a law professor at George Mason University: "What is my place in the church, and do I feel welcomed?"

Ms. Alvaré, who is a former spokeswoman for the American bishops, said the indissolubility of marriage is a Catholic essential, "a key to the entire Roman Catholic cosmology — our understanding of the world, God, our relationship with him and our relationship to one another." But, she added, questions about the place of divorced worshipers in the church fit into a larger context of uncertainty for Catholics who do not fully live out the church's ideals.
Read more. There's also an interactive feature, showcasing different stories of Catholics who have divorced.
Image: Sarcophagus of the Dioscures, detail depicting a marriage. Marble, latter part of 4th century. Musée de l'Arles et de la Provence antiques. 
Photo by Ad Meskens via Wikipedia