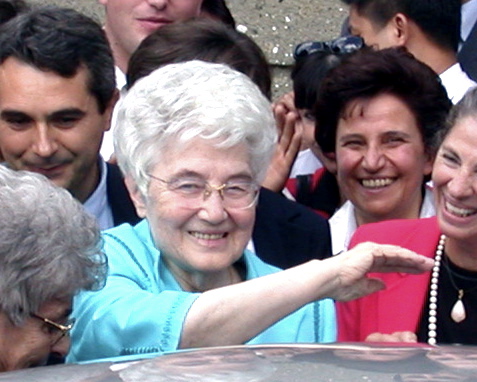 Chiara Lubich via Wikipedia 
Bishop Raffaello Martinelli will officially open the process of beatification of Chiara Lubich, founder of the Focolare Movement (or Work of Mary), on 27 January, in the cathedral of the Frascati. Chiara spent most of her life in this diocese and it is here that she is buried.

Maria Voce, president of the Movement, upon reporting the news to its members, said that she hoped they could be "living witnesses" of the collective holiness Chiara Lubich proposed and lived by.

Thanks to her deep knowledge of Teresa of Avila, Chiara Lubich could relate her spirituality to that of the Spanish saint who had spoken of an "interior castle", meaning the presence of God who dwells in the soul when one meets with Him in prayer.

Chiara came up with the expression "exterior castle," not so much an individual experience between oneself and God as a communal one: "The exterior castle where God is among us."

Chiara rediscovered the Gospel in Trent (northern Italy), during the war, reading it in shelters as bombs fell on the city. From a God that no bomb could destroy, to God's will in response to His love, to charity as the first commandment, to the "crucified and abandoned" Jesus, the height of love, to Jesus present among his people, united in his name, until Jesus' testament, "so that they may all be one," unity as a "Magna Carta of our new life."

This experience of collective spirituality spread immediately. Chiara and her first companions went into Trent's poor neighbourhoods, meeting her Communist brother Gino's challenge, winning over the city. In a few months, her small group included 500 people.

This spread throughout the world, from Italy to Europe and other continents, and to all groups of humanity. All must be one, from whom comes the commitment of unity within the Catholic Church and among the Churches.
No less a figure than Pope Benedict XVI had this to say at her passing in 2008:
Pope Benedict XVI sent a telegram in which he said, "I have been moved by news of the death of Chiara Lubich, which came at the end of a long and fruitful life marked by her tireless love for the abandoned Jesus."

"At this moment of painful separation I remain affectionately and spiritually close to her relatives and to the entire Work of Mary – the Focolare Movement that began with her – and to those who appreciated her constant commitment for communion in the Church, for ecumenical dialogue and for fraternity among all peoples," the Pontiff wrote.

"I thank the Lord for the witness of her life, spent in listening to the needs of modern man in complete faithfulness to the Church and to the Pope," he said. "And, as I commend her soul to divine goodness that she may be welcomed in the bosom of the Father, I hope that those who knew and met her, admiring the wonders that God achieved through her missionary ardor, may follow her footsteps and keep her charism alive."