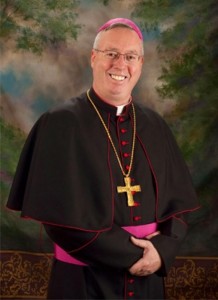 Bishop Christopher Coyne via Diocese of Burlington
A Burlington TV station aired this brief profile of its new bishop, Christopher Coyne, last night:
Coyne described himself as primarily a pastor, adding he embraces direct and charitable conversations with parishioners and community members.

Coyne also maintains a large presence on social media, with thousands of followers on Facebook and Twitter. He also has a blog (http://bishopcoyne.org/) with video posts that are both casual, featuring observations about life, and formal, discussing scripture and answers to parishioners' questions about faith.

"The way people engage each other more and more is through digital media," Coyne said. "If we want to go out and engage people, we have to be there. We have to be present in the digital media. We have to be willing to engage in conversations."
Watch the full report below.