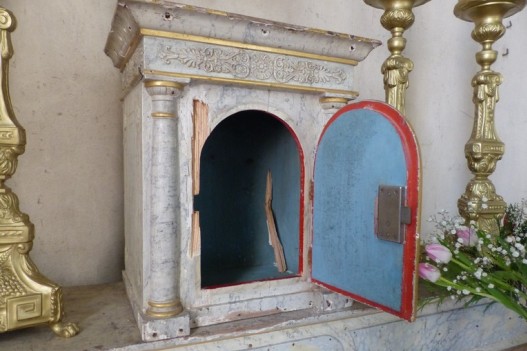 In response to the desecration of ten parishes since October, including five on February 6-7, the bishop of Bellay-Ars has ordered the Blessed Sacrament removed from the tabernacles of all parish churches and chapels.

The Blessed Sacrament, Bishop Pascal Roland decreed, must be kept in a more secure location, and tabernacle doors must be kept open to indicate that the Eucharist is not present.
The order (via Google Translate): 
Blessed Sacrament will be removed [from] tabernacles of all parish churches and chapels and be kept in a secure location.

The door of the tabernacle [will] remain conspicuously open.

For the purposes of public or private prayer, the Blessed Sacrament will be [placed] temporarily in these tabernacles provided that a sufficient presence of the faithful is assured.

The only exceptions will [be] metal tabernacles [that are] secure and have a resistant lock.  

These measures come into force from today [Monday February 9] and will remain so until further notice.  

The bishop hopes that these exceptional measures manifest to all the seriousness of these facts and help discourage [such vandalism].
I'm curious if anything like this has ever happened before. Has a bishop ever before ordered a wholesale emptying of all tabernacles in his diocese??
Photo: from the website of the Roman Catholic Diocese of Belley-Ars