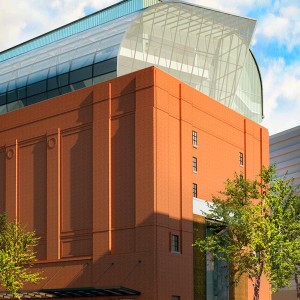 Some intriguing details from NPR:
In Washington, D.C., construction is underway on the Museum of the Bible, an eight-story, $400 million enterprise funded by Hobby Lobby president Steve Green.

Green is a Pentecostal known for donating to conservative evangelical universities and developing a public school curriculum based on the Bible. After the craft store's controversial victory in this summer's Supreme Court ruling over contraception, some people worry the new museum will come across as evangelical propaganda. But organizers behind Green's latest venture say it won't be a memorial to evangelism.

The Museum of the Bible will house the more than 40,000 artifacts in Green's personal collection, including Jewish Torah scrolls and papyrus fragments of the New Testament.

But the museum won't just put relics on display. As museum President Cary Summers explains, visitors can stroll through the biblical garden.

"So people can actually see what a Rose of Sharon is," he says. "And what does a Hyssop bush look like?"

They can visit the café for flatbread, date honey and other biblical foods. It's part of what Summers calls an "immersive" experience.

"We want this to be highly engaging for people of all ages, all cultural backgrounds, all faiths, no faiths," he says.
And you can visit the Museum of the Bible website for more info about what's planned.
Photo via Museum of the Bible website