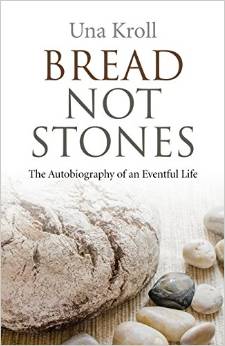 From The Catholic Herald in the UK: 
 It is always interesting to read the various ways that converts stumble onto the path to Rome. Surely one of the strangest accounts in modern times is that of Dr Una Kroll, whose autobiography, Bread Not Stones, has recently been published by Christian Alternative. Dr Kroll received quite a lot of publicity in the past as an active and vocal Christian feminist. Indeed, she was ordained into the Anglican priesthood as one of the first women priest of the Church of Wales. The title of her book is taken from an incident at the Church of England's General Synod of 1978. When its members at that time turned down a proposal to prepare women for ordination, Una Kroll shouted from the gallery: "We asked you for bread and you gave us a stone!"

This might sound an unpromising start to conversion to the Catholic Church, which only permits an all-male priesthood. But Kroll's whole life has been one of dramatic change, loss, upheaval and spiritual breakdown, in the midst of a long, painful quest for spiritual truth. Born in 1924, her father deserted the family when she was very young. Raised by her mother alone, she endured much poverty before winning a scholarship to study medicine at Cambridge in 1944. Qualifying in 1951 and thinking of a specialist career in neurosurgery, she made the impulsive decision in 1953 to become an Anglican medical/missionary nun. Sent to work in Liberia she found combining medicine and religious life very hard and fell ill. Escorted back to the UK by Leopold Kroll, the monk who was head of her religious order, they fell in love and had to leave their respective communities. They married in 1957.

Thirty years of happy marriage and raising four children was combined with working as a GP and training as a deaconess. After her husband's death in 1987, Kroll returned to being a nun and chose to live as a "solitary" in life vows. In 1997, aged 71, she was ordained in the Church of Wales, returning to England in 2003. For five years, living in Bury, near her son, she continued as an Anglican solitary, but began to experience difficulties with the Church of England's then discriminatory practices against women in the ministry.
That's just the beginning. Continue.