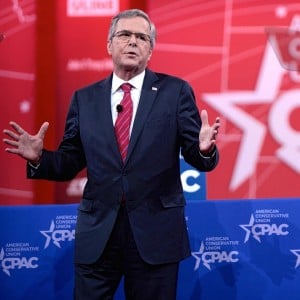 From The New York Times: 
Like his brother George W. Bush, who established the White House office on faith-based initiatives, Jeb Bush was a champion of faith-based social services. As governor, he established what he said was the nation's first faith-based prison, encouraging religious activity — of any faith tradition — in an effort to reduce criminal behavior. And he has said his religious beliefs helped inform his concern about child welfare and other issues.

"You hear people say, 'I don't want to impose my faith,' " Mr. Bush told the newspaper The Florida Catholic days after leaving office in 2007. "Well, it's not an imposition of faith. It's who you are."

The son and brother of Protestant presidents, Mr. Bush, if elected, would be the nation's second Catholic president. Sometimes, he carries a rosary in his pocket and fingers its beads at moments of crisis. He is a member of the Knights of Columbus and has retweeted Pope Francis. He was part of theAmerican delegation to the installation of Pope Benedict XVI in 2005, and during his travels in the United States he sometimes attends Mass in local churches.

Mr. Bush is not the first Catholic in his family. His great-grandfather George Herbert Walker was a Jesuit-educated Roman Catholic who married a Presbyterian.

Jeb Bush, who was baptized in the Episcopal Church, began his journey to Catholicism inadvertently when, as a high school exchange student in Mexico, he met and fell in love with Columba Garnica Gallo. She is a committed Catholic, despite having felt poorly treated by other Catholics when her parents divorced. When the Bushes married, in 1974 (he was 21, and she was 20), it was at the Catholic student center at the University of Texas.

"Jeb did not express any particular interest in converting at the time, but he was aware of her responsibility to share her faith with her children," said the Rev. Charles J. Brunick, a Paulist priest who officiated at the couple's wedding.
Photo by Gage Skidmore via Wikipedia