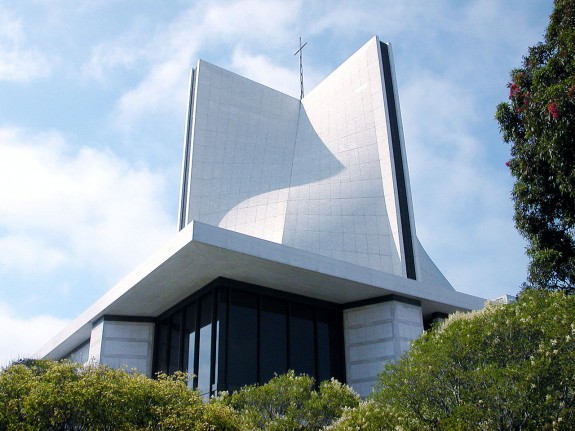 That sound you hear is my mind, boggling.
From KCBS: 
KCBS has learned that Saint Mary's Cathedral, the principal church of the Archdiocese of San Francisco, has installed a watering system to keep the homeless from sleeping in the cathedral's doorways.

The cathedral, at Geary and Gough, is the home church of the Archbishop. There are four tall side doors, with sheltered alcoves, that attract homeless people at night.

"They actually have signs in there that say, 'No Trespassing,'" said a homeless man named Robert.

But there are no signs warning the homeless about what happens in these doorways, at various times, all through the night. Water pours from a hole in the ceiling, about 30 feet above, drenching the alcove and anyone in it.

The shower ran for about 75 seconds, every 30 to 60 minutes while we were there, starting before sunset, simultaneously in all four doorways. KCBS witnessed it soak homeless people, and their belongings….

…A neighbor who witnessed the drenching told KCBS, "I was just shocked, one because it's inhumane to treat people that way. The second thing is that we are in this terrible drought.

Jennifer Friedenbach, executive director of the Coalition on Homeless said, "It's very shocking, and very inhumane. There's not really another way to describe it. Certainly not formed on the basis of Catholic teachings."

A cathedral staff member confirmed to KCBS the system was installed, perhaps a year ago, to deter the homeless from sleeping there.
UPDATE: Other local media are picking up the story this afternoon. This just moved, from the ABC affiliate:
The Archdiocese of San Francisco will not tell ABC7 News what the sprinklers are for.

But a spokesperson sent a statement that reads: 

"Catholic organizations in San Francisco serve thousands of homeless people every year, providing shelter, food, and critical services. That is the true picture of compassionate Catholic care. The Archdiocese of San Francisco is aware of the situation at St. Mary's Cathedral and will address it immediately."
And First Things has offered today this assessment of Archbishop Cordileone and his treatment of the homeless:
Opponents have seized on reports that spigots installed at the doors to the San Francisco cathedral that come on at regular intervals and douse anyone trying to sleep there in order to discredit Cordileone's stand. In doing so, they are ignoring Cordileone's own personal history of care for the homeless and distorting his record as head of a church that does much to house and feed the homeless. Nothing can be achieved by pitting one element of the Christian witness against another—except, of course, the destruction of the faith.

As for the water system, Cordileone—who may have had little or no role in its installation—should move now to remove it. In doing so, he will be acting in accord with his own admirable personal witness as archbishop. Multiplereports describe Cordileone visiting homeless shelters to meet with and feed the homeless. In September 2013, he visited a gay parish in the Castro District to feed the homeless: "The Archbishop served a table full of people and everyone was delighted that he took time out of his busy schedule to be with them," its pastor said. "He promised he would be back."
UPDATE II: The archdiocese has released a statement.  Read it all here.   
Snip:
This sprinkler system in alcoves near our back doorways was installed approximately two years ago, after learning from city resources that this kind of system was being commonly used in the Financial District, as a safety, security and cleanliness measure to avoid the situation where needles, feces and other dangerous items were regularly being left in these hidden doorways. The problem was particularly dangerous because students and elderly people regularly pass these locations on their way to school and mass every day. When the system was installed,after other ideas were tried and failed, the people who were regularly sleeping in those doorways were informed in advance that the sprinklers were being installed. The idea was not to remove those persons, but to encourage them to relocate to other areas of the Cathedral, which are protected and safer. The purpose was to make the Cathedral grounds as well as the homeless people who happen to be on those grounds safer. We are sorry that our intentions have been misunderstood and recognize that the method used was ill-conceived. It actually has had the opposite effect from what it was intended to do, and for this we are very sorry. We have also now learned that the system in the first place required a permit and may violate San Francisco water-use laws, and the work to remove this system has already started, and will be completed by the end of the day.
Photo via Wikipedia