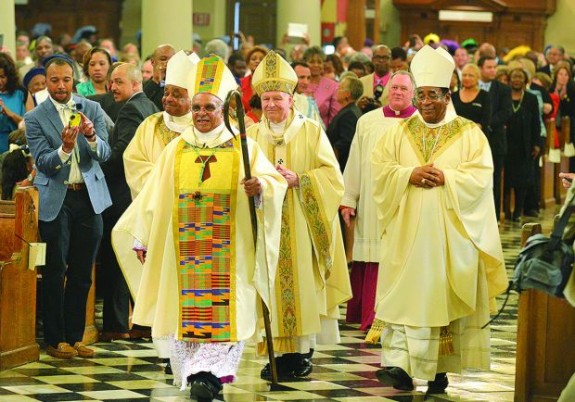 The last minute or so of this video is priceless.
Let the record show that never before in the nearly 300-year history of St. Louis Cathedral have Catholics seen a dancing bishop.

But when Bishop Fernand "Ferd" Cheri III, a Franciscan priest and native son, made his first remarks to the nearly 1,000 people gathered for his ordination as auxiliary bishop March 23, the hometown boy in him couldn't resist breaking into several spirituals and even moving a few body parts.

Very reverently.

Bishop Cheri, 63, spoke briefly after giving Communion to his 87-year-old mother, Gladys, seated proudly in the front pew just six weeks after she had fallen and broken her right hip.

Gladys Cheri's medical condition hardly fazed her as she jumped to her feet and began twirling a colorful "second line" umbrella — a local custom at celebrations — as Bishop Cheri broke out into song during his remarks before the final blessing.

All of the Cheri ladies — the bishop's four sisters and his mother — were dressed in red, the episcopal color. Bishop Cheri's brother Richard, a longtime choir leader, watched from the balcony as he directed the Archdiocese of New Orleans Gospel Choir, established 31 years ago by then-Father Cheri.

"I feel like King David felt when the ark of God was being brought into Jerusalem," Bishop Cheri said, smiling broadly after being ordained the 11th auxiliary bishop of New Orleans by Archbishop Gregory M. Aymond, who heads the archdiocese. He joins the ranks of about a dozen U.S. black Catholic bishops.
Photo by Frank J. Methe / Clarion Herald