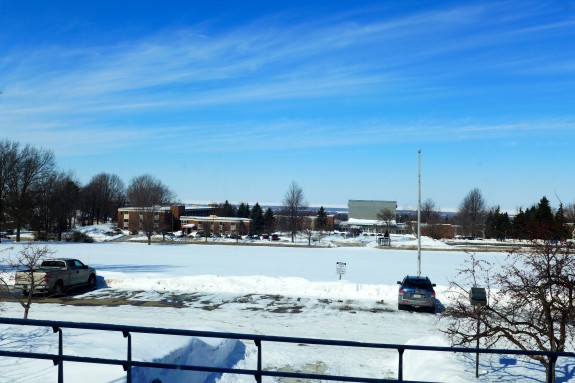 So I did a little traveling last weekend—more than I expected, actually. I flew out to Erie, PA to give a talk to a couple dozen deacons and their wives.
The first thing to know: it was brutally cold. I had been in St. Petersburg 48 hours earlier, where it was 79 degrees; Erie, with wind chill, was 18 below zero. A mere 100 degree difference, give or take.
I spoke at the St. Mark Catholic Center, which is also the diocesan seminary. Somewhere in the picture above, looking out from the entrance of the seminary, I'm told you can see Lake Erie.
The talks went well.  The hospitality could not have been "warmer"—ha!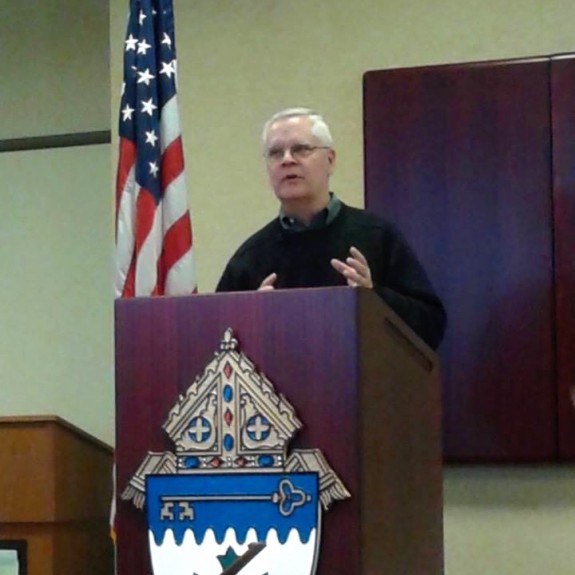 The seminary facility contains a large dining room with an elaborate mosaic of Christ feeding his disciples.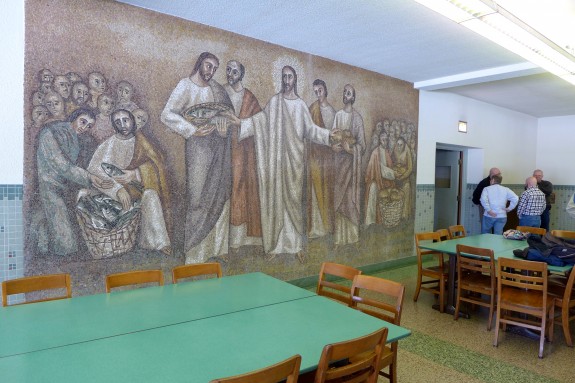 More impressive, though, is the gorgeous chapel upstairs.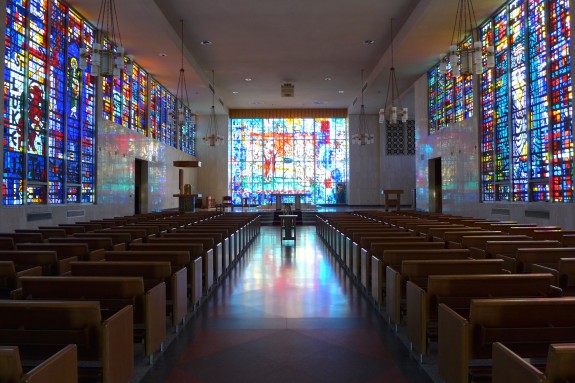 Built in 1958, the chapel is wrapped in stained glass—including, behind the main altar, a dramatic window depicting the Last Supper.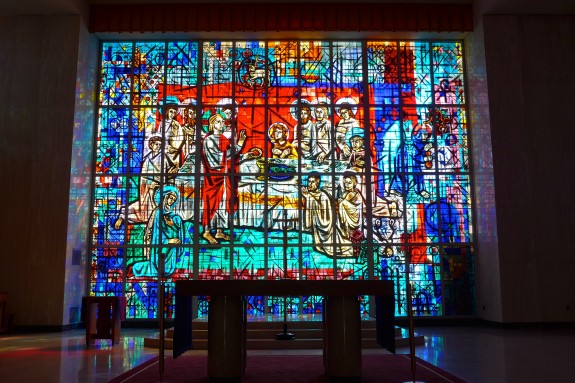 One unusual feature: the pews are small, divided into segments to seat people in pairs, two by two. I'm not quite sure what the thinking was behind that.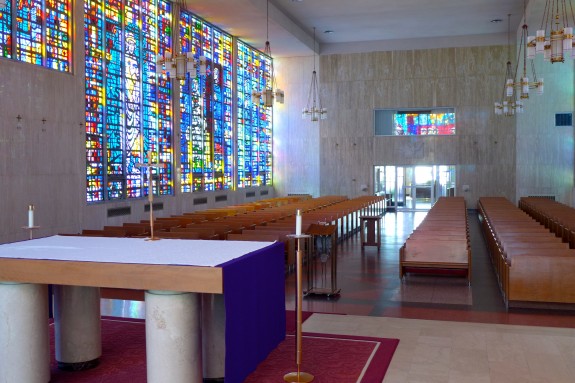 Outside the entrance to the chapel, there are posted pictures from its dedication. Lots of cassocks and surplices.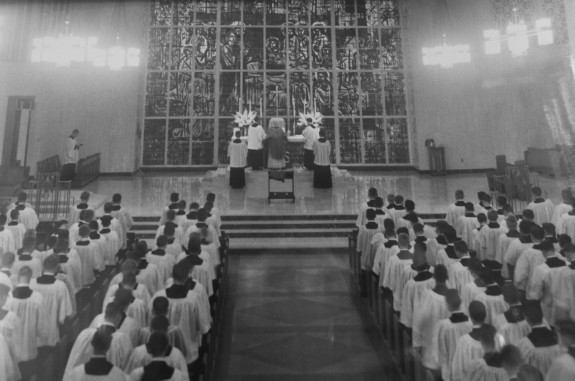 Following lunch, I headed back to the airport. Owing to a scheduling quirk, I had to fly back to New York through Chicago. That would have been fine—I had about 40 minutes to make my connection—except that my first flight had to delay its landing and circle O'Hare because there was some sort of debris on the runway. Which, of course, meant that I missed my connection. And so I spent the night at the airport hotel.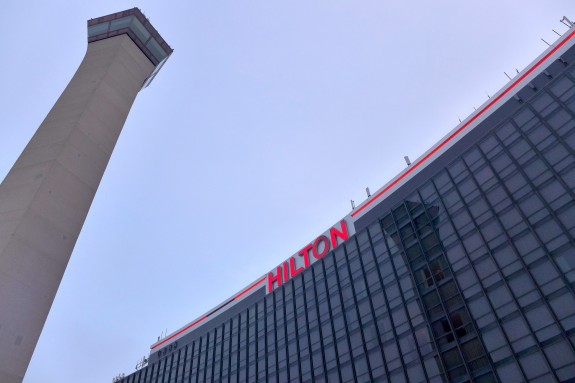 The Hilton at O'Hare is huge and equipped with a little store where I was able to buy things like socks and toothpaste. N.B.: no handguns.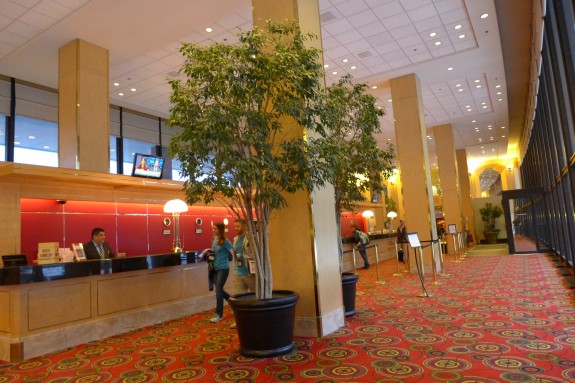 Spending an unexpected night in Chicago meant that I got to attend Sunday Mass the next morning at the airport chapel.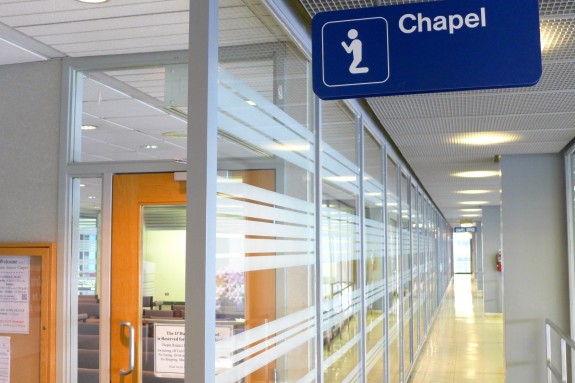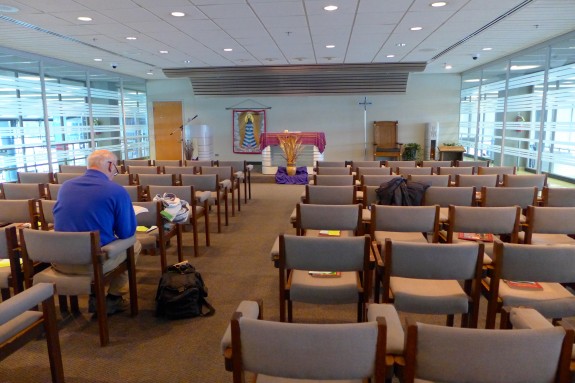 A lay volunteer named Bob Smith acts as sacristan, lector, usher and greeter. I was impressed to see that the chapel actually has the Blessed Sacrament present at all times, in a small tabernacle.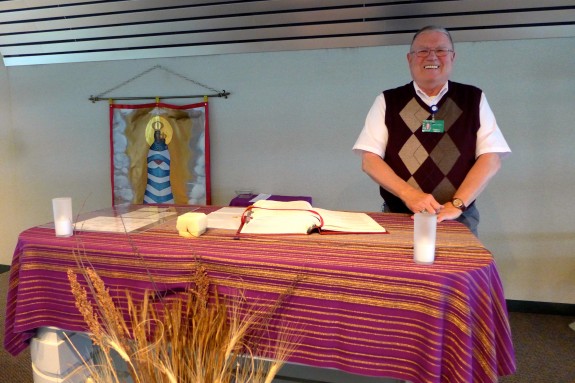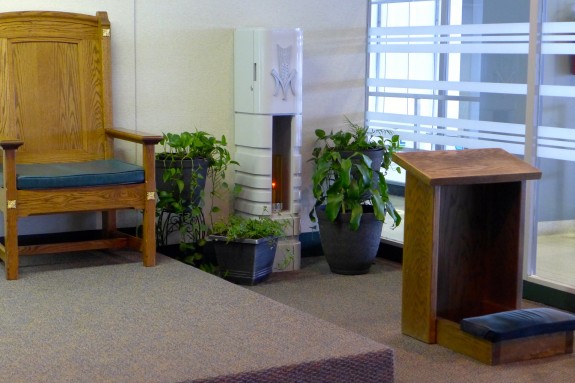 I got to chat with the priest, Fr. Michael Zaniolo, after his blissfully quick Mass—30 minutes, so no one misses a flight!—and learned that he works at the airport full time. A holy card he gave me, featuring a prayer for travelers, lists the Masses for Midway and O'Hare. O'Hare has a daily Mass at 11:30, and Sunday Masses at 6:30, 9:00, 11:00 and 1:00. Fr. Zaniolo also made himself available for confession just before Mass. It's an important ministry, and one many don't know about. Spread the word!
I hopped on my 11 am flight back to New York after Mass and made it home safely—weary and a little ragged, but none the worse for wear.  With all my trudging around, from terminal to terminal, at multiple airports, I developed a renewed appreciation for the modern miracle that is luggage with wheels. What did we do before that??
Below, the prayer given to me by Fr. Zaniolo.
A Prayer for Travelers (from O'Hare Airport) 
Father of mercies,
Our life journey is in your providential and loving hands. Your son, Jesus, is the way, the life and the truth as we make our pilgrimage on earth to our heavenly home.
Your Holy Spirit gives us enlightenment and courage as we meet the challenges and responsibilities of our lives.
Through Mary, the mother of Jesus and our mother as well, you extend to us the unique and loving care of a mother.
With all the angels and saints, we come before you, Father, and give you thanks for these and all your gifts that accompany our lives.
Hear our prayers as we begin our journey…
bring us safely to our destination
be with those who are responsible for making our journey possible: the flight crew, airport workers and those charged with our safety and security
accompany with your consolation and encouragement those among us who make their journey in sorrow or with a sense of loss
give us patience and a deep spirit of respect for all whom we will meet along the way
when our earthly journey is completed, bring us home to You with joy.
We ask this through Christ our Lord,
Amen.