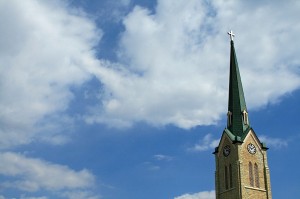 A fascinating read, from The Wall Street Journal:
Many people change faiths, but not like Brad and Chad Jones.

Identical twins, the brothers grew up in Elkin, N.C., a small town in the Bible Belt, the only children of devout Baptists. As boys, they attended the First Baptist Church of Elkin, studied Scripture, went to vacation Bible school and sang in the choir, as did many of their cousins, classmates and neighbors.

Today, Brad, 43, is a Roman Catholic priest in the Diocese of Charlotte, and Chad is an Anglican bishop in Atlanta. Their parents, Jo Anne and Robert, remain faithful members of their Baptist congregation. When their sons visit, each celebrates mass according to his own rite in the dining room or living room of what has become a very ecumenical Jones household.

More than half of the U.S. adult population has changed religious affiliations at least once during their lives, most before they reach 50, according to a 2009 Faith in Flux report by the Pew Research Center. In many cases, the move is from one major religious tradition to another, say, Protestantism to Catholicism, but it also includes those who leave organized religion altogether.
What sparked their conversions? This passage may be noteworthy:
Their curiosity was piqued in large part by an older, much-respected cousin, who lived in Greensboro and had recently converted to Catholicism. During one visit, their cousin took the boys, then about 12 or 13, to Our Lady of Grace Catholic Church. It was their first time inside a Catholic church. That Sunday morning remains 30 years later one of their most vivid memories.

The beauty of the building itself—the vaulted ceilings, marble steps, intricate woodwork, statues and stained glass—the smells of burning incense and the sounds of bells had a mystical quality that is hard to explain, says Father Brad. What struck Bishop Chad was watching the priest standing in front of the altar and elevating the Communion host.

For them, the Catholic liturgy made the invisible God palpable and tangible to the senses. Their own Baptist Church, where the walls are white and flat, the altar austere, and the worship focused largely on Scripture alone, didn't. "We weren't theologians. We were children. But as children we had open hearts and minds to it and were very receptive," says Bishop Chad. He remembers painting a picture of Jesus during vacation Bible school, hanging it on his bedroom wall and wishing his church had pictures.
Photo via Wikipedia