After spending a half hour or so at the local Roman Catholic church, we hopped into our van and drove a few minutes away to join the liturgy at the St. Peter and St. Paul Melkite Catholic Church in Amman.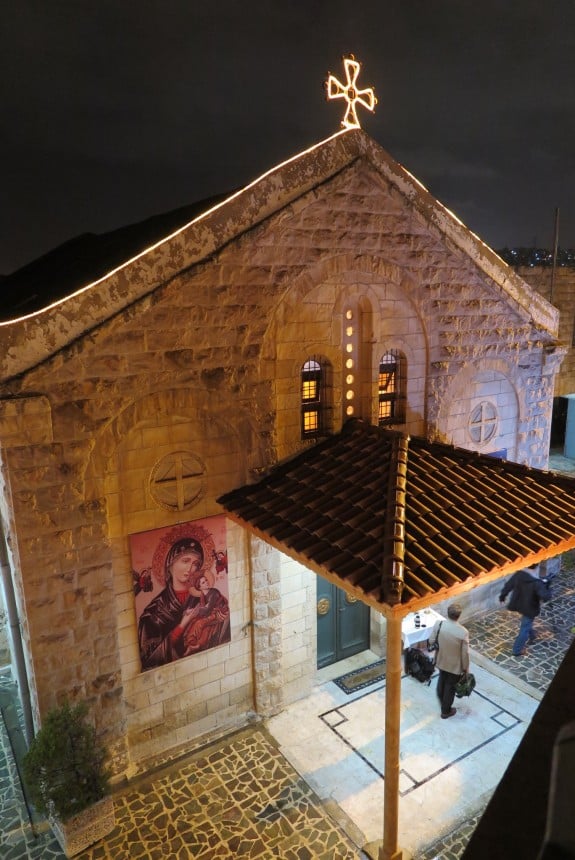 This tiny parish of about 400 families is presided over by Fr. Nabil Haddad, a charismatic and disarming man who is clearly much beloved by his people. Wikipedia describes him:
Nabil Haddad was born in a town near Irbid, Jordan.

For years, Father Nabil Haddad has worked to promote interfaith harmony between Muslims and Christians in Jordan and around the world.

Father Nabil Haddad has worked to implement the ideas behind World Interfaith Harmony Week, first proposed by King Abdullah II of Jordan in an address to the General Assembly of the United Nations on September 23, 2010.
The liturgy was already well under way when we arrived at the church.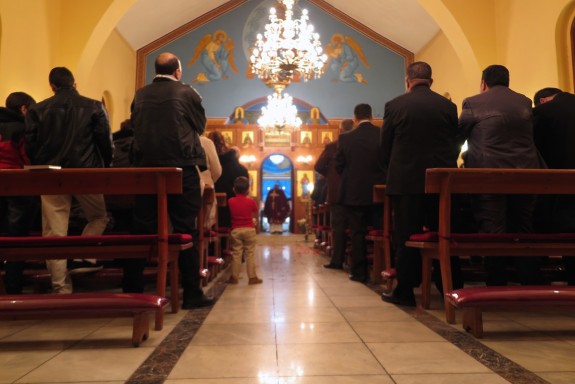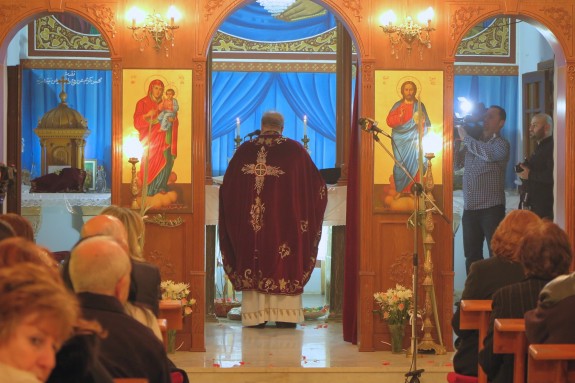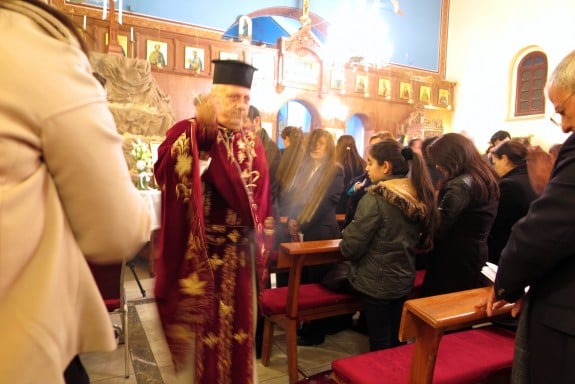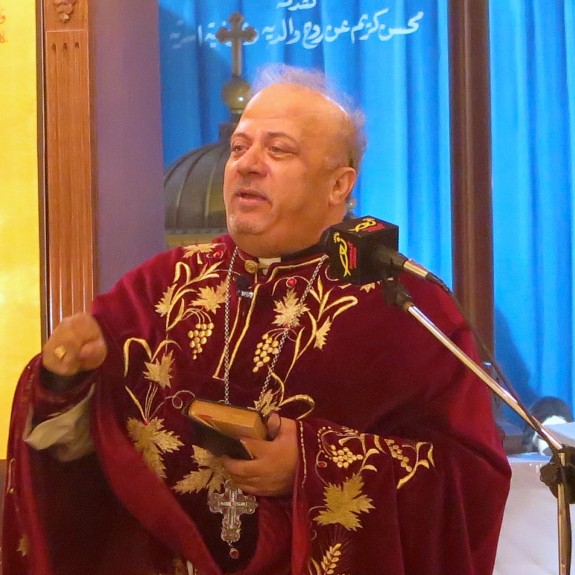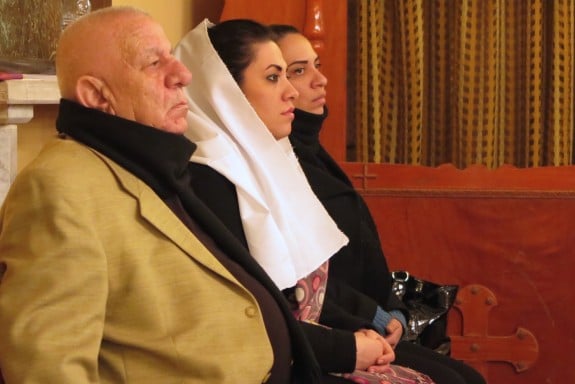 I've only been to one other Eastern rite liturgy, back when I was in formation, so this was fascinating and beautiful—and a little exotic, since most of the service was conducted in Arabic.
A few observations:
Nearly all of the liturgy is sung. There is some praying by the congregation that is spoken, but music predominates.
For this Easter Vigil, there was a lot of sprinkling, crossing, blessing, processing. The priest did not use a deacon; when I asked about it later, he explained that there were a lot of other liturgies that weekend around the city, so deacons were busy elsewhere.
The parish uses both male and female altar servers.
Much of the liturgy is conducted with the celebrant facing away from the congregation.
Communion is given on the tongue, on large pieces of bread, using intinction.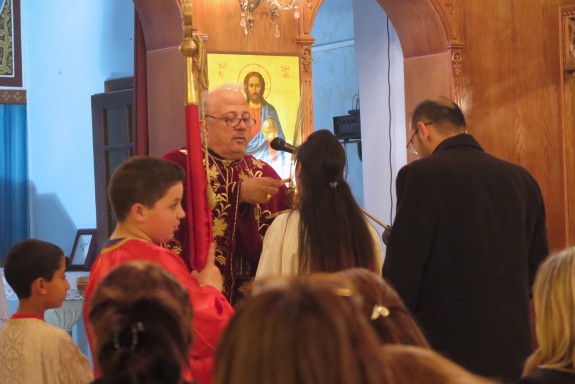 Many women donned veils to receive communion, then removed them. The church keeps a supply of cloths on a side shelf for this purpose.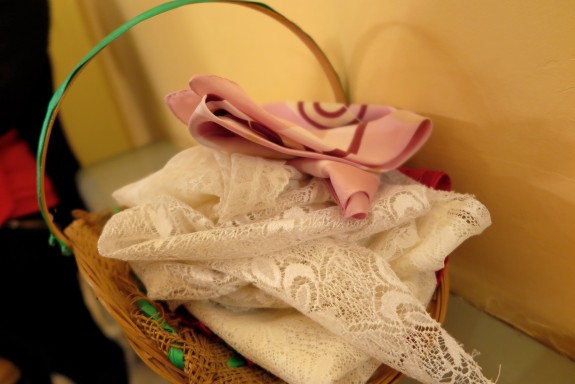 They also make use of missals.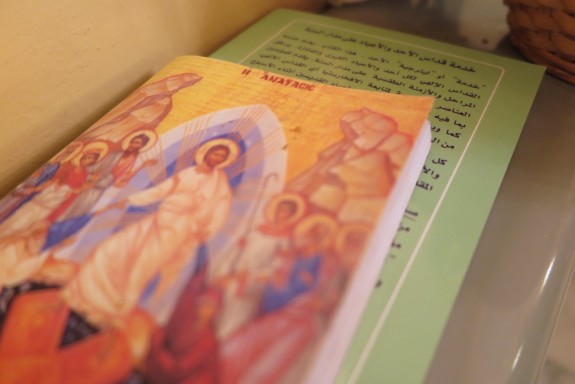 At one point in the liturgy, Fr. Nabil spoke to the congregation in English, and introduced some "special friends" who were visiting—which included our little band of bloggers. He had effusive words for the woman who organized our tour from the Jordan Tourism Board, Christine Moore.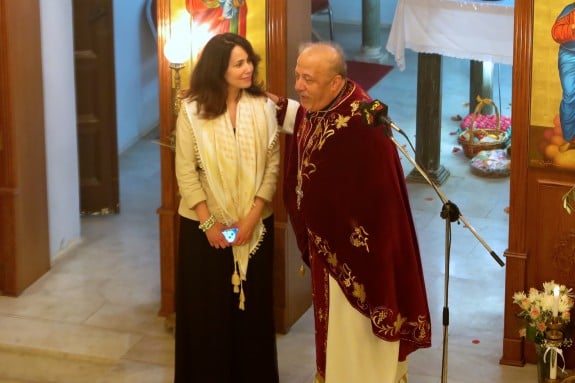 After the liturgy, we joined him in a parish hall next door. He introduced us to his wife and two grown children. When I asked him if I could take a picture of him with his wife, he politely demurred. "Maybe another time, when you come to my home" he said, "and I'm wearing my 'civilian' clothes." He smiled. "That would be more proper."
But he did agree to a picture with a deacon.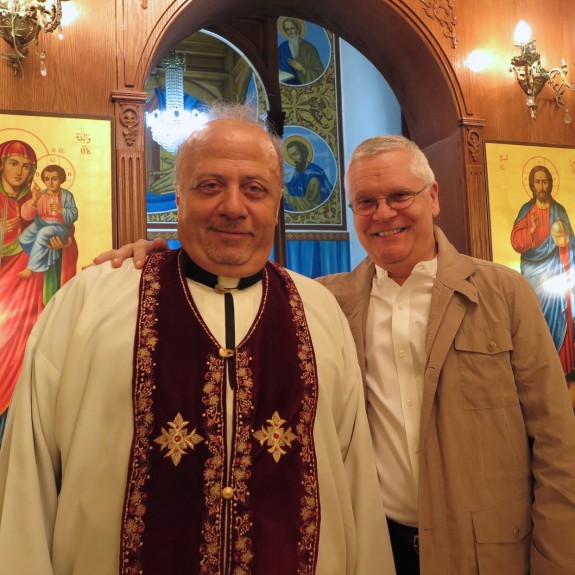 He was happy to see his old friend Diana von Glahn, too—a woman who is never not on the job. Does she ever go anywhere without a camera and tripod?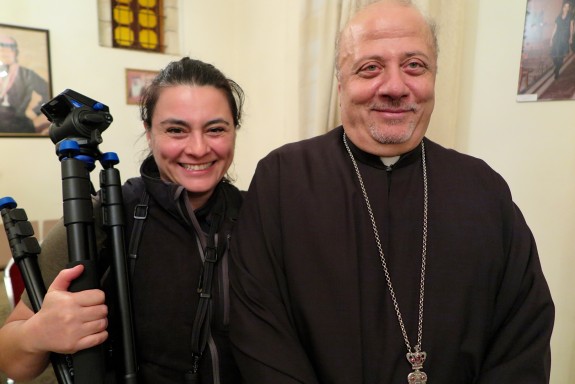 Though it was a rainy, cold night, as we left the little church I couldn't help but feel the warmth of something wondrous. The liturgy served as another reminder of just how vast and diverse the Catholic church really is. We pray in many different ways, but are bound together by a common creed, a common faith, and a certain hope: God's boundless love accompanies us, uplifts us, consoles us, saves us.
We are Easter people, and "Alleluia" is our song.
The church in the Middle East is working valiantly and faithfully to stay alive and to stay rooted in the land where Christianity first began. Please keep Fr. Nabil and his important work in your prayers—and remember his little flock, too!