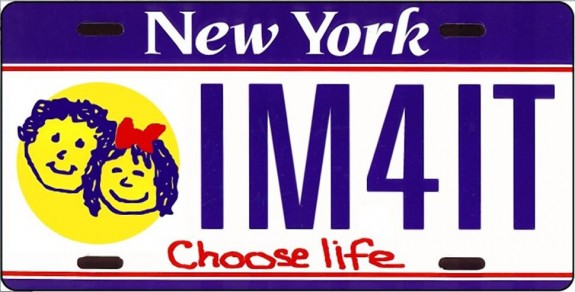 From Reuters: 
A divided federal appeals court gave New York wide authority to regulate the content of custom license plates, and reversed a lower court ruling ordering the state to let an adoption advocacy group put the words "Choose Life" on its own plates.

By a 2-1 vote, the 2nd U.S. Circuit Court of Appeals said the commissioner of the state Department of Motor Vehicles had "broad discretion" to decide which plates to permit, and did not violate the First Amendment free speech rights of the Children First Foundation in rejecting the "Choose Life" plates.

Writing for the majority, Circuit Judge Rosemary Pooler said the content of custom plates was "private speech" and the plates themselves a "nonpublic forum."

She said it followed that the DMV's uniform policy of excluding controversial, politically sensitive messages from plates, which the agency said stemmed from highway safety concerns, was "reasonable and viewpoint neutral, which is all that the First Amendment requires."

The 2nd Circuit ruled as the U.S. Supreme Court prepares to decide whether Texas violated the First Amendment by rejecting a custom plate bearing the Confederate flag, on concern the plate and others like it might offend people.

A decision in that case is expected by the end of June, and perhaps as soon as Tuesday.
And there's this: 
People "may display a 'Choose Life' bumper sticker — or even cover every available square inch of their vehicle with such stickers. That message will resonate just as loudly as if vehicle displayed a 'Choose Life' license plate. It will merely do so without the perception of State endorsement," two judges wrote in a majority opinion.

Judge Debra Ann Livingston dissented, saying the commissioner's determinations that "a proposed custom plate depicting a sun and two smiling children, and bearing the words, 'Choose Life' to be 'patently offensive'" is "surprising" and should be overturned.

Children First lawyer Jeremy Tedesco said they're mulling their legal options.