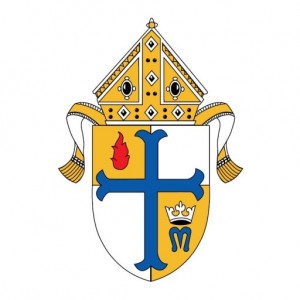 During the past five years, 18 men bonded as brothers as they first discerned and then navigated their four year journey to the diaconate. On June 6, in the Cathedral of St. Francis of Assisi, surrounded by family and friends and joined by priests and deacons of the diocese, each stepped forward to be ordained by Bishop Paul G. Bootkoski and become part of the brotherhood shared by the clergy.

"You must shine forth Jesus Christ with the care of a brother for your brothers and sisters who are in need, no matter what that need is — material, physical, mental, spiritual — that is an integral part of your ministry" the bishop told men about to become permanent deacons.

Bishop Bootkoski served as principal celebrant of the Ordination Mass; Msgr. William Benwell, vicar general, and Msgr. Edward C. Puleo, executive director, diocesan Department of Clergy and Religious Personnel, were principal concelebrants. Assisting deacons included Deacon Samuel J. Costantino, director, diocesan Office of the Diaconate and Deacon Patrick Cline, associate director, Class of 2015.

To begin the Rite of Ordination, the candidates for election to the diocanate were presented by Msgr. Puleo. As their name was called, the men, who were seated in the pews with their families, stood, stepped into the center aisle, and in a clear voice responded, "Present."

Then each man walked to the sanctuary to join his new brother servants of the Church. Msgr. Puleo presented the 18 men to the bishop and proclaimed them ready for service. The bishop formally chose each of the candidates for ordination to the diaconate. The congregation showed its appreciation and gratitude of the bishop's decision saying, "Thanks be to God," followed by resounding applause.

In his homily, Bishop Bootkoski reminded the men of the ways they would contribute to the life of the diocesan Church. As ministers of the altar, they would take up the mantle of instructor to believers and nonbelievers; preside over baptisms, marriage and funeral liturgies; assist the priest at the Eucharist liturgy; lead prayer services, and participate in other duties for the good of God's people.

"You will be recognized as disciples who came not to be served, but to serve," the bishop continued, echoing the Gospel, in which Jesus instructs his disciples "whoever wishes to be great among you shall be your servant, whoever wishes to be first among you shall be your slave" (Mt 20:26-27).

"You are men of good reputation, filled with wisdom and the Holy Spirit, and firmly rooted in character and good faith, stewards of God's mysteries," Bishop Bootkoski stated. "You are not only a hearer of this Gospel, but proclaimer, steeped in prayer."
Read more. And see full coverage in the diocesan newspaper, Catholic Spirit. 
Congratulations and welcome! Ad multos annos!