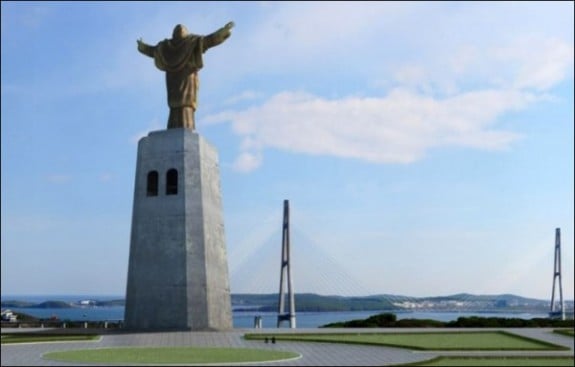 The statue was cast in 2013 by Tsereteli, the famous Georgian-Russian sculptor, known for his gigantic projects such as a statue of Peter the Great in Moscow and 'The Tear of Grief' in the United States, dedicated to the struggle against world terrorism.

The monument stands 50 metres taller than the world famous 'Christ the Redeemer' in Rio de Janeiro, and two metres higher than 'The Christ the King' in Lisbon.

In Vladivostok, the monument will be composed of two parts: the statue itself and the pedestal housing a cathedral in honour of Archangel Michael.

Organisers say the monument, which has the backing of the Orthodox Church, will boost tourism and encourage residents of Vladivostok to believe in God.

It is also seen as a symbol of the revival of the Russian Far East.
As the Christian Science Monitor noted a few years ago:
Two decades after the collapse of the USSR, history's most atheistic state, the vast majority of Russians attest to a belief in God – more than in any other European country – according to a new opinion poll.

The survey, carried out in April by the independent Public Opinion Fund (FOM), found that 82 percent of Russians say they are religious believers, while just 13 percent say they do not believe in any deity.
I can't help but recall one of the messages of Fatima:
"I shall come to ask for the consecration of Russia to my Immaculate Heart, and the Communion of reparation on the First Saturdays. If my requests are heeded, Russia will be converted, and there will be peace; if not, she will spread her errors throughout the world, causing wars and persecutions of the Church. The good will be martyred; the Holy Father will have much to suffer; various nations will be annihilated. In the end, my Immaculate Heart will triumph. The Holy Father will consecrate Russia to me, and she shall be converted, and a period of peace will be granted to the world".