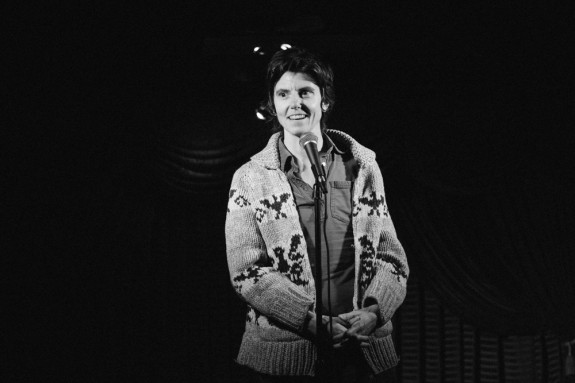 You may remember this story from over the summer:
Catholic deacon presiding at lesbian wedding in Mississippi?
It was about stand-up comedian and breast cancer survivor Tig Notaro:
Her family is completely on board, including the Catholic deacon cousin who's agreed to marry them. "They're like, This is going to be the biggest thing to hit the Gulf Coast since Katrina!" she jokes. She guesses it will be the first lesbian wedding to go down in Pass Christian. "They're so proud," she says of her family. "They want it in the local paper. They're very much: It's time for change."
US Weekly is now reporting that the wedding went off as planned last weekend. By coincidence, I received an email on the subject Monday:
Deacon Greg,

Thank you for posting and I am the Catholic Deacon who married Tig Notaro and it was a honor and a privilege to be the celebrant for the wedding. They are in love, two remarkable people, they embody the meaning of Christian love, they love community and love each other.

This is what Christian love is all about.

I have found my calling, Have You?

Come join us where no one is judged or denied the sacraments.

Deacon Rory Rafferty, OSB
A little digging around finds that Rory Rafferty is a former Alderman in the city of Pass Christian, Mississippi, and now serves as the principal of Torah Academy near New Orleans. He also identifies as a Benedictine in the Old Catholic Church.
For those unfamiliar with it, some background:
The term Old Catholic Church originated with groups which separated from the Roman Catholic Church over certain doctrines, primarily concerned with papal authority. These churches are not in full communion with the Holy See of Rome, but their Union of Utrecht of Old Catholic Churches is in full communion with the Anglican Communion…

…The Old Catholic Church shares some of the liturgy with the Roman Catholic Church and similar to the Orthodox, Anglicans and high church Protestants.

Christ-Catholic Swiss bishop Urs Küry dismissed the Roman Catholic dogma of transubstantiation as well as consubstantiation because these Scholastic interpretations presume to explain the Eucharist using the metaphysical concept of "substance". Like the Orthodox and Methodist approaches to the Eucharist, Old Catholics, he says, ought to accept an unexplainable divine mystery as such and should not cleave to or insist upon a particular theory of the sacrament.

Because of this approach, Old Catholics hold an open view to most issues, including the role of women in the Church, the role of married people within ordained ministry, the morality of same sex relationships, the use of conscience when deciding whether to use artificial contraception, and liturgical reforms such as open communion. Its liturgy has not significantly departed from the Tridentine Mass, as is shown in the translation of the German altar book.

n 1994 the German bishops decided to ordain women as priests and put this into practice on 27 May 1996. Similar decisions and practices followed in Austria, Switzerland and the Netherlands. The Utrecht Union allows those who are divorced to have a new religious marriage and has no particular teaching on abortion, leaving such decisions to the married couple.
This group, reportedly numbering a little over 100,00 worldwide, also has its own website.
Long story short: lacking full communion with Rome, this deacon belongs to a church that could more properly be called Anglican.
Photo: Wikipedia