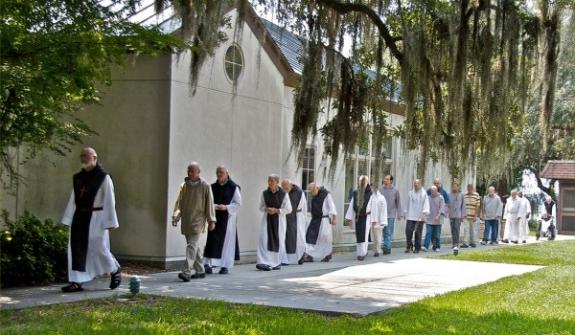 The New York Times' Stephen Hiltner paid a visit to the venerable Trappist monastery in South Carolina and describes some of the challenges it is facing:
Mepkin Abbey — part of a global network of Trappist monasteries that for nearly 1,000 years have provided their communities with reliable sources of prayer, learning and hospitality — is edging toward a potential crisis. In keeping with broader declines in the ranks of priests, nuns and brothers, Mepkin's monastic community is dwindling. Only 13 monks remain, down from a peak of 55 in the mid-1950s. Over the same period, the monks' average age has steadily risen by nearly 50 years — up to 77, from around 30. The abbey is struggling to attract and retain younger novices.
The solutions include some surprises:
While many monks at Mepkin are concerned about the monastery's future, they also see this moment as an opportunity to pioneer a new form of monasticism. In recent months, the abbey, in response to its aging population and its lack of young novices, formed a committee for its future development and drew up a set of programs aimed at attracting a younger and more spiritually diverse group of people.

The abbey's new affiliate program will offer two new short-term monastic options for people of any, or no, faith traditions: a monthlong monastic institute, open to men and women, and a yearlong residency. And in a departure from its otherwise passive approach, Mepkin created an ad campaign — albeit a small and highly targeted one — to publicize the program. (It featured copy that read: "BE A MONK. FOR A MONTH. FOR A YEAR.")

"We're at such a — you might say desperate — point," said Father Guerric Heckel, "that we're being forced to try something new and innovative."

Many young people of the Roman Catholic tradition, Father Guerric added, will simply not be attracted to forms of monasticism that require celibacy and a lifetime commitment. But there's a growing belief among Mepkin's brothers that certain elements of the Trappist tradition — its cultivation of mindfulness, stillness and inward exploration — are increasingly relevant to today's youth. And the abbey, they say, is a repository of wisdom about the benefits of contemplative living.

"What young people keep telling us," said Father Joe Tedesco, the chair of the committee for Mepkin's future development, "is that they're interested in the spiritual life journey, but not in institutional religion. So let's give them an experience of the place without a commitment, and see what happens."
Hiltner has some gorgeous photos accompanying the story, as well.
Meantime, several years ago, Mepkin produced a video about their life called "Trappist." Below is the trailer.