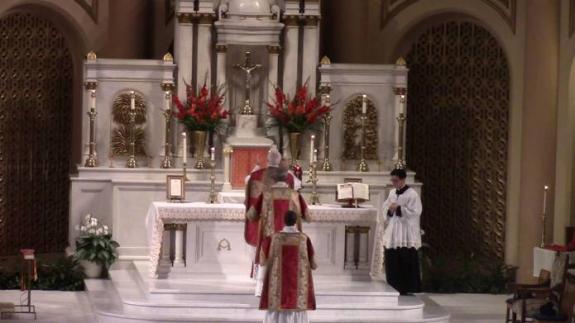 Some may remember the controversy that swirled around San Francisco's Father Joseph Illo, whose traditionalist ideas—male-only altar servers and ad orientem Mass, among others—provoked protests.
Nonetheless: the parish where he serves, Star of the Sea, has since undergone an impressive revitalization. And Fr. Illo wrote about it recently on his blog:
Here are some of the simple changes we have made at my parish, Star of the Sea in San Francisco, that have made the parish more prayerful:

a. Confessions. One must begin at the beginning, which is the fact that we are sinners and beggars at the throne of grace. We put a priest in the confessional 15 minutes before every Mass; that is, we offer confessions at least 17 times a week. If nobody comes (rarely) we catch up on our breviary or our reading. People come from all over the city, because they know they will find a confessional light on at Star of the Sea.

b. Altar servers. I've already related the story of "altargate" and my five minutes of fame over our all-boys server program. We remained firm despite almost unanimous opposition from our local area. I received over 900 letters and emails from all over the world, 90% of which were positive. But 90% of the negative emails were from the San Francisco Bay Area. We stood firm, and trained our young men so well that the Archbishop stole some of our best ones for his cathedral Masses. Some boys serve two or three Masses in a row, both in the Ordinary and Extraordinary Form. We did not neglect the girls either, but established a "Star Girls" group that meets every other week for fun and service, including altar guild activity.

c. Sacred Music. We put time and money into our music department, recovering chant and polyphony. At one point the department consumed 25% of our budget. Sacred Music had been much developed before I arrived at the parish, but much had to be done, and still needs to be done. Good music costs a pastor time and money, but I remembered St. John Vianney, the pastor who lived like a pauper but spent money on the Sacred Mass like a king.

d. Vessels and vestments. We quickly moved banal vestments and vessels to storage, and we repaired what was torn and tarnished, purchasing new vestments where needed. We asked this question: in 100 years would you find this vessel or that vestment in a museum? The timebound and faddish are now in a closet, and the beautiful and timeless grace our altars every day.

e. Church Interior. We restored the altar predella marble by removing the tired red carpet that had been glued over it. We replaced the same old carpet over our sanctuary with splendid stone tilework. We gilded the altar, replaced burned out fixtures, installed more brilliant lighting, and made the sanctuary lamp prominent and brighter. Our church has "good bones" and has preserved its essential integrity, but much remains to be done so that it regains the vivid beauty of an age of greater faith.

f. Ad Orientem Masses. I wanted the trust of the people before leading them into ad orientem worship, so I approached this move progressively over three years. The Archbishop wanted us to spend a few months in education, and we even made a Youtube instructional video, before entering a three month experimental period, from Ash Wednesday to Pentecost last year. After Pentecost we asked people what they thought, and not one person complained. Everyone loved seeing the priest face the altar during the collects and canon of the Mass.

g. Altar Rail. By God's grace our parish has retained its original altar rail from 1914. I had encouraged Holy Communion on the tongue at the English Masses, but didn't get many takers. Only after I encouraged people to come to the altar rail did most folks begin receiving on the tongue. If people stand in line for Holy Communion, as if waiting for a handout, most will naturally put out their hands. But when one kneels, one realizes that one is no longer at the bank or the post office. At first we only gave people the option of Holy Communion at the rail, but within two or three months almost everyone had forsaken the "communion line" for the altar rail. Then we asked everyone to come to the rail, and the vast majority now receive Holy Communion on the tongue.

h. Perpetual Adoration. We built a new chapel at significant cost ($300,000) and promoted adoration at every opportunity. Our adoration program is still very much a work in progress, but perpetual Eucharistic adoration is a game changer for any parish or diocese. It draws people to the parish, of course, but beyond that it transforms the parish into a praying community. The nocturnal hours are unparalleled hours of grace for priests and people. A young men's group, for example, does a holy hour every Thursday from 5-6am.​
He has much more about this at his blog. His conclusion:
In an area where Mass attendance is generally diminishing, our attendance has increased about 8% annually. The Sunday offertory has tripled in three years. Many new social, study, and service groups have formed, such as the Knights of Columbus, Young Adults (who begin their weekly meeting with an hour of Eucharistic adoration and confession), a Mother's Group, a monthly men's recollection, a Reading Club, and many more. We baptized seven adults last year in a parish that apparently hadn't witnessed an adult baptism in several years. Four men entered the seminary from Star of the Sea in 2017.
Meantime, below is the video explaining ad orientem, "Together Facing God."