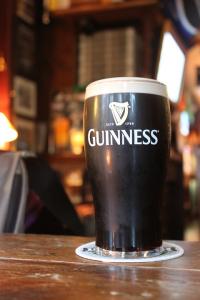 A fascinating read for this day—with this intriguing bit of history: 
A slightly ironic twist to the St. Patrick's Day connection is that Guinness was not traditionally a Catholic company. St. Patrick was a Catholic and the patron saint of Ireland, and the colors of the day are drenched in the symbols of the Protestant-Catholic struggles of Ireland. Orange is traditionally recognized as the color of the Protestants, while Green is the color of the Catholics. You can still find Irish people in New York and New Jersey, for example, who will take offense to wearing orange or even serving carrots on St. Patrick's Day. But Guinness wouldn't hire Catholics until well into the 20th century. If an employee wanted to marry a Catholic, they were asked to resign. Arthur Guinness, the founder of the company, was a pro-English Protestant and Unionist.
So what happened?
A big part of Guinness' success globally is probably not due to the brand itself, but due to the Irish diaspora. The island itself is currently home to some 6.5 million people, but nearly 80 million people of Irish descent live outside the country, including 36 million here in the United States (this writer included). Political unrest, economic hardship and the famous potato famine of the 1840s contributed to huge numbers of Irish emigrating to other countries, and they brought their culture with them.

Guinness was already established in Ireland at the start of the diaspora and had been shipping to the United States since 1817. So homesick Irish immigrants in the Americas could have turned to a familiar beer for a bit of comfort. On St. Patrick's Day in particular, they would reach for the only Irish beer available.