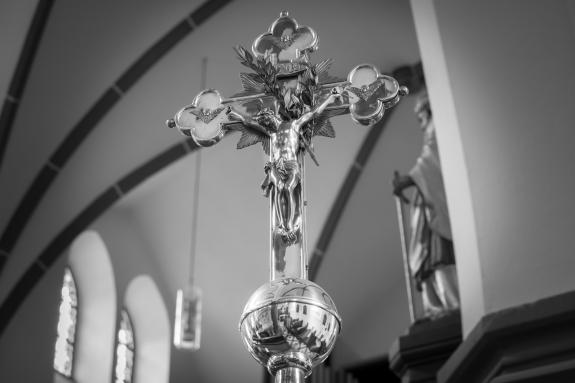 This is our recessional this weekend—a fitting segue into next week and Palm Sunday, and an appropriate coda to the scripture readings this 5th Sunday of Lent.
From Wikipedia: 
George Kitchin wrote "Lift High the Cross" in 1887, while he was the Church of England Dean of Winchester, for the Society for the Propagation of the Gospel. It has been suggested that the hymn was inspired by the story of Constantine the Great's conversion to Christianity after seeing a cross with "In hoc signo vinces" on it. It was intended as a festival hymn and was first performed in Winchester Cathedral. In 1916, Newbolt revised the hymn so that it was in twelve couplets and it was printed in the 1916 Supplement to Hymns Ancient and Modern. In that same revision, "Lift High the Cross" was set to the tune of "Crucifer" by Sydney Nicholson.  The hymn is often sung during Lent or Holy Week but is also used as a processional hymn or recessional hymn before or after a church service.

"Lift High the Cross" was first published in the United States in 1974 by  Donald Hustad in Hymns for the Living Church and since then has appeared in a number of different hymnals outside England. In 1978 it appeared in the Lutheran Book of Worship, the hymnal for the Evangelical Lutheran Church in America. In 1982 it appeared in Lutheran Worship, the hymnal for the Lutheran Church-Missouri Synod. In 1989 the hymn was included in The United Methodist Hymnal, but with a replacement first verse as the original was considered to be too militarististic.
Check out this glorious rendition, from the First Plymouth Church in Lincoln, Nebraska.