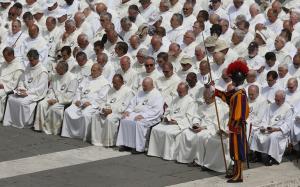 This is going to be a great event—and a chance to take part in a significant piece of history.
The congress is happening in July in New Orleans, and is expected to draw hundreds (if not thousands) of deacons (and their families) from around the United States. It celebrates the 50th anniversary of the restoration and renewal of the diaconate in this country—and I can't think of a better event to celebrate.
If you haven't seen it yet, check out this website, which tells you all you need to know and provides information on the schedule and hotel accommodations.
Among other things, you'll also find:
A list of speakers—everyone from Archbishop Gregory Aymond and Cardinal Joseph Tobin to Deacon Bill Ditewig and Your Humble Blogger
A list of workshops—including my friend Deacon Daniel Gordon Dozier, speaking on the diaconate in the Byzantine tradition
A complete schedule of events and liturgies
A blog, with insights and reflections on all things diaconate, from some great deacons
Visit the site and sign up—and I'll look forward to see you in N'awlins!