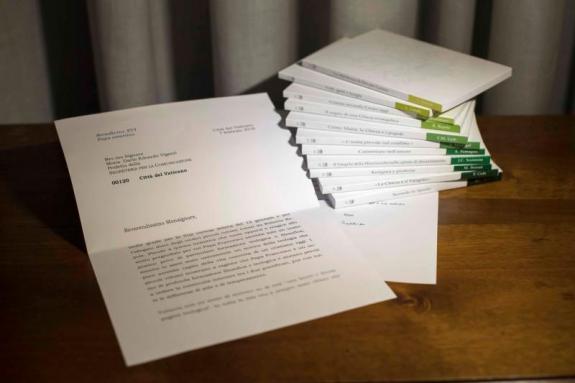 From AP:
The Vatican admitted that it altered a photo sent to the media of a letter from retired Pope Benedict XVI about Pope Francis. The manipulation changed the meaning of the image in a way that violated photojournalist industry standards.

The Vatican's communications office released the photo of the letter on Monday on the eve of Francis' five-year anniversary. The letter was cited by Monsignor Dario Vigano, chief of communications, to rebut critics of Francis who question his theological and philosophical heft and say he represents a rupture from Benedict's doctrine-minded papacy.
CNS adds:
The Secretariat for Communication released a photograph of the letter in which the final lines of the first page were blurred. While Pope Benedict said early in the letter that he hoped the 11 volumes would put an end to the "foolish prejudice" against Pope Francis, in the blurred lines the retired pope said he could not write a complete theological reflection on the 11 volumes because he had not read them and would be physically unable to do so in time for the presentation of the volumes to the public.

Msgr. Vigano read from the letter, including the blurred lines, during a presentation of the 11-volume series March 12.

The Vatican press office did not say why the lines were blurred, but said the Vatican never intended to publish the complete text. In fact, the second page of the letter — except for Pope Benedict's signature, is covered by books.
This is just inexcusable and indefensible.
UPDATE: Greg Erlandson of Catholic News Service offers this commentary on this fiasco:
Whatever the intention on the part of the Vatican Secretariat for Communication, the obscuring of a portion of the letter suggested something they did not want everyone to see. Read in this context, Pope Benedict could be seen to be qualifying his generic support for the publication of the series.

For those who attended the news conference, the context of Pope Benedict's comments was clear, and the fact that Msgr. Vigano read out loud the lines that were subsequently obscured in the image makes the incident sound more like a matter of poor judgment than deception.

The controversy comes on the heels of the publication of Pope Francis' World Communications Day message, which criticized the phenomenon of "fake news," defining the phrase as "false information based on nonexistent or distorted data meant to deceive and manipulate the reader."

The entire incident is a reminder that in a media-sophisticated age, with a media-omnipresent pope, the Vatican communications apparatus must be committed both to transparency and to best journalistic practices. Anything less is a disservice to the church.
U.S. photojournalists adhere to strict standards regarding any sort of manipulation of a photographed image. AP norms, which are followed by Catholic News Service, state that "no element should be digitally added or subtracted from any photograph."