The man who has been dominating the political headlines for the last 24 hours—and is close to winning the congressional seat in Pennsylvania—is Catholic: 
A Catholic, Lamb attended St. Bernard School in Mt. Lebanon, graduated from Central Catholic High School (Pittsburgh) in 2002. He graduated from the University of Pennsylvania in 2006 with a B.A. degree in political science, and earned a J.D. degree from the University of Pennsylvania Law School in 2009.

Conor J. Lamb
But that's not all:
In 2013–14, Lamb clerked for Joseph Frank Bianco, a federal judge in the United States District Court for the Eastern District of New York.
Joseph Bianco is, in fact, a deacon for the Diocese of Rockville Centre. He may be one of the few (maybe the only??) federal judges who is also Catholic clergy.
I had the good fortune to meet him last year when I gave a talk at his parish, St. Peter of Alcantara in Port Washington, New York.
Deacon Bianco spoke about his faith — and his twin vocations in the law and the diaconate —  several years ago:
Judge Bianco, who recently became a deacon in the Catholic Church, answered, "I've probably issued over 1,000 decisions, and I can't think of a time where being Catholic came into play. I'm a judge, I have to think of what the law is."

Bianco later said that he feels that being a Catholic comes more into play when it comes time for sentencing, "There are cases with mandatory minimums where I would probably sentence less. I do think my Catholic faith plays a role in how I'm sentencing."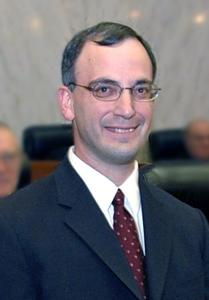 UPDATE: A few readers have pointed this out, so it bears noting that Lamb—despite his Catholicism—has publicly stated he is in favor of keeping late-term abortions legal:
Conor Lamb, a moderate Democrat vying to win the special election for Pennsylvania's 18th District, told THE WEEKLY STANDARD on Monday that he does not support proposals to ban abortions after 20 weeks, the point at which fetuses can feel pain.

"I'd have voted against it," Lamb answered when asked how he would vote on such a bill. Lamb added that he would not describe his beliefs as "pro-life."