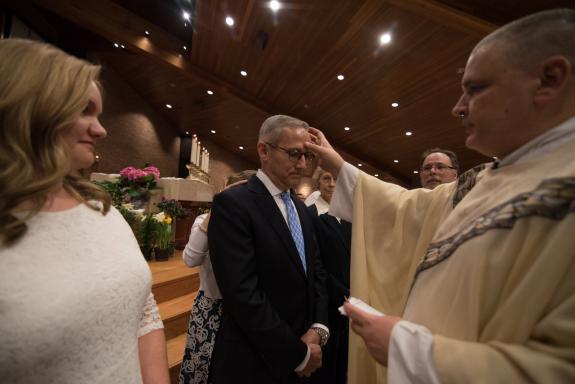 From CNA: 
David Bereit, the founder of 40 Days for Life, entered the Catholic Church on Easter, giving thanks for the inspiration of influential Catholics, including his wife and children.

"After years of prayer, discernment, and a whole lot of wrestling with God, I was received into full communion with the Catholic Church at last night's Easter Vigil," wrote Bereit in an April 1 Facebook post.

Bereit celebrated Easter with his family at St. Mary of the Immaculate Conception Church in Fredericksburg, Virginia. His wife Margaret was his sponsor, and his son Patrick was an altar server at the Mass. His daughter Claire and mother-in-law Helen were also in attendance.

Bereit said that he had been attending Sunday Mass with his wife – who is Catholic – every week for the last 28 years, ever since their second date at St. Mary's Catholic Center at Texas A&M in 1990.

But while he and Margaret shared many things in common as Christians, Bereit said he also longed to be more unified in their church affiliation and therefore spent years wrestling with the Catholic Church.

"I struggled with many questions, misconceptions, and hangups along the way. I have endeavored to continually learn and grow through prayer, studying Scripture, theology, and church history, reading, and seeking wise counsel," he said.
Read on. Welcome!