This is how to cover an ordination. Excellent work by the Diocese of Savannah communications crew!
The story also was the lead item in the diocesan newspaper, Southern Cross.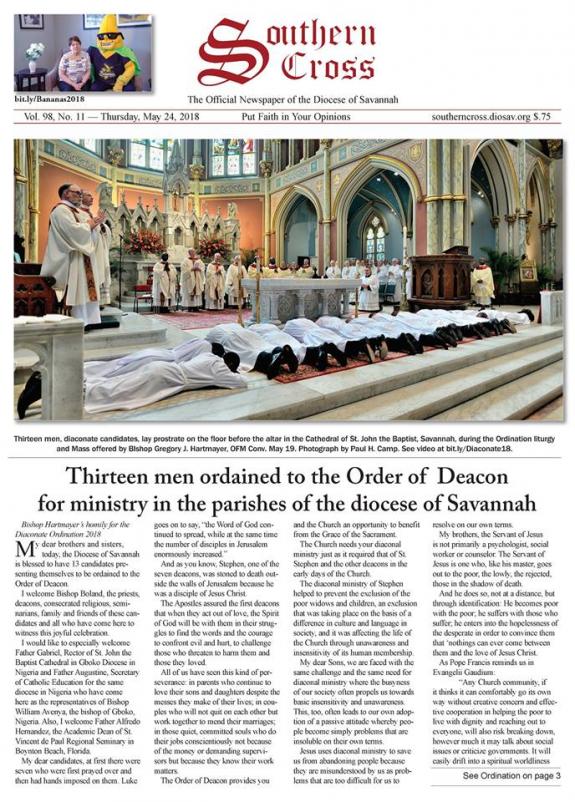 Clearly, this is a place that puts a high premium on deacons and values a vocational culture. They know this is big news and are happy to share that with the faithful.
I have no doubt the bishop is setting the tone.
From Bishop Gregory J. Hartmayer's homily:
The Church needs your diaconal ministry just as it required that of St. Stephen and the other deacons in the early days of the Church.

The diaconal ministry of Stephen helped to prevent the exclusion of the poor widows and children, an exclusion that was taking place on the basis of a difference in culture and language in society, and it was affecting the life of the Church through unawareness and insensitivity of its human membership.

My dear Sons, we are faced with the same challenge and the same need for diaconal ministry where the busyness of our society often propels us towards basic insensitivity and unawareness. This, too, often leads to our own adoption of a passive attitude whereby people become simply problems that are insoluble on their own terms.

Jesus uses diaconal ministry to save us from abandoning people because they are misunderstood by us as problems that are too difficult for us to resolve on our own terms.

My brothers, the Servant of Jesus is not primarily a psychologist, social worker or counselor. The Servant of Jesus is one who, like his master, goes out to the poor, the lowly, the rejected, those in the shadow of death.

And he does so, not at a distance, but through identification: He becomes poor with the poor; he suffers with those who suffer; he enters into the hopelessness of the desperate in order to convince them that 'nothings can ever come between them and the love of Jesus Christ.

As Pope Francis reminds us in Evangelii Gaudium:

"Any Church community, if it thinks it can comfortably go its own way without creative concern and effective cooperation in helping the poor to live with dignity and reaching out to everyone, will also risk breaking down, however much it may talk about social issues or criticize governments. It will easily drift into a spiritual worldliness camouflaged by religious practices, unproductive meetings and empty talk."
It's worth noting that two of those ordained were transitional deacons who will eventually enter the priesthood. The bishop did a commendable job of tying their ministry as deacons to their eventual ministry as priests:
Peter and Theodore, while today you are ordained a deacon so that you might make the transition towards priesthood, the diaconal quality of your ministry, namely, care for the poor, care for those persons in the margins, care for those persons overlooked, care for those who suffer violence, concern for those without a clear voice, care for persons threatened by isolation and exclusion from the common good because of existing differences in language and culture is not transitional in the sense that it never goes away.

Despite its transitional character, your diaconal ordination has its own unique integrity that will be necessary for your future priestly ministry. The diaconal ordination will strengthen you in the command of Our Lord "to serve and not be served" that must imbue your personal character, your human formation and your priestly identity so that Christ's Grace more clearly might be seen in the administration of the sacraments and not obscured by the seduction of entitlement.
Read it all and check out more at the link. 
Congratulations, brothers, and welcome! Ad multos annos!