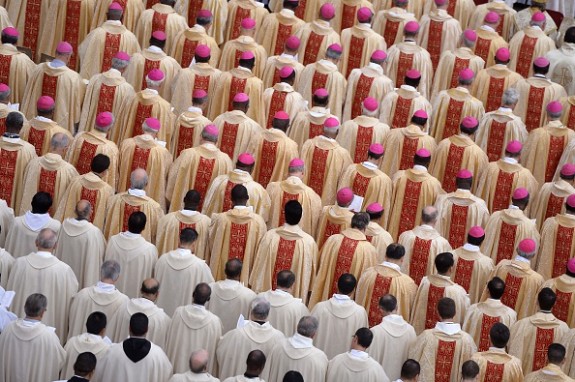 From CNS: 
That only men can be validly ordained to the priesthood is a truth that is part of the Catholic faith and will not and cannot change, said Cardinal-designate Luis Ladaria, Prefect of the Congregation for the Doctrine of the Faith.

"It gives rise to serious concern to see that in some countries there still are voices that put in doubt the definitive nature of this doctrine," the cardinal-designate wrote May 29 in the Vatican newspaper, L'Osservatore Romano.

St. Pope John Paul II, confirming what he called the constant teaching and practice of the Church, formally declared in 1994 that "the Church has no authority whatsoever to confer priestly ordination on women and that this judgment is to be definitively held by all the Church's faithful."

Ladaria said some people continue to question the infallibility of John Paul's document Ordinatio Sacerdotalis because "it was not defined ex cathedra" or formally, solemnly proclaimed as infallible. The argument, the cardinal-designate wrote, is that "a later decision by a future pope or council could overturn it."

But "sowing these doubts creates serious confusion among the faithful not only about the sacrament of orders as part of the divine constitution of the Church, but also about how the ordinary magisterium can teach Catholic doctrine in an infallible way," he wrote.

A teaching of the Church is infallible not only when it is solemnly pronounced by a council or by a pope speaking ex cathedra, literally "from the chair," meaning the bishop's throne, he said. A teaching is recognized as infallible also when it is "the ordinary and universal teaching of bishops spread throughout the world when, in communion among themselves and with the pope, they propose Catholic doctrine that is to be held definitively."

That's what John Paul did, he said.

"He did not declare new dogma, but with the authority conferred on him as successor of Peter, he formally confirmed and made explicit – to remove any doubt – that which the ordinary and universal magisterium had considered as belonging to the deposit of faith throughout the history of the Church."
One thing that isn't definitive, of course, is the status of an all-male diaconate. The question of whether women could become deacons is still unanswered — but a commission is exploring that question.  Stay tuned.