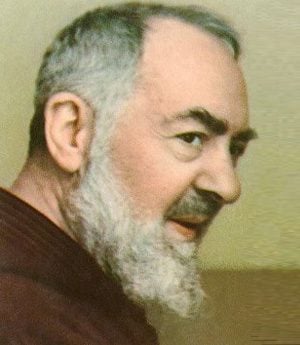 The St. Pio Foundation — the guiding force behind the historic tour of Padre Pio's relics around the United States—is hosting a fundraiser this weekend in Connecticut. Your Humble Blogger will be there to present an award to Bridgeport's Bishop Frank Caggiano. Come join us!
About the foundation:
The Saint Pio Foundation is a non-profit charity organization dedicated to the promotion of the spiritual charism of Saint Pio of Pietrelcina, universally acclaimed as one of the most venerated contemporary saints of the Catholic Church.

The foundation is open to those who want to learn more about the life and holiness of Saint Pio and who wish to live in accord with his counsels for our life in Christ in the Church.

The overarching goal of the Saint Pio Foundation is to promote the awareness of Saint Pio and his charism nationally and internationally by working with institutions ​and ​​individuals who share the same vision to serve "those in need of relief of suffering."

Funds raised by the Saint Pio Foundation are used to provide grants to American Catholic healthcare, educational, social, religious, and cultural partner organizations. As partners, they use their facilities and influence to advance the public's knowledge of the legacy and importance of Saint Pio.
Bishop Caggiano will be receiving the Adelia Award, named for one of the closest friends of Padre Pio. It's given to someone who has served as a friend of the foundation and helped to spread the charism of the saint and the organization that bears his name. Previous winners of the honor include Cardinal Edwin O'Brien.
Read more about the foundation and this weekend's dinner here.  
N.B.: The foundation is offering special discounted tickets to readers of The Deacon's Bench: 50% off! Submit your ticket request with the code KANDRA to receive the discount. Check the form at this link for prices and details.
If you're in the neighborhood, stop by and say hello!  This is a great opportunity to do something wonderful in the spirit of one of the Church's most beloved and powerful saints.