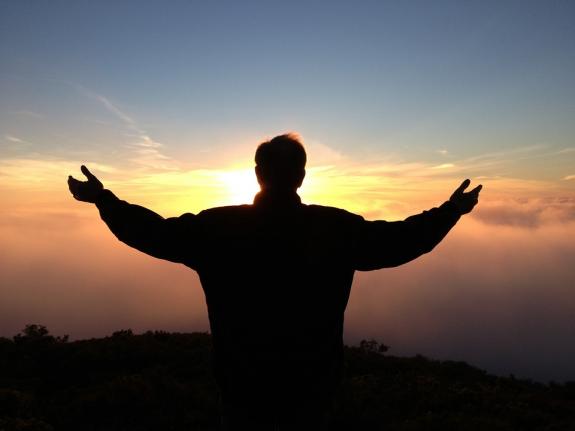 Now for something different, from The Atlantic:
Religions have long been the dominant suppliers of rituals, gamely stepping in with an answer to every question from How do I celebrate the birth of my baby boy?to How can I transfer my own sins onto a live chicken? But in an age of increasing religious disaffiliation, these rituals now feel hollow to millions of people. And even when they don't, there's a wide range of new experiences for which the traditional rituals offer no script: How do I cope with my rage after receiving a parking ticket? How can I keep a smart car from exacerbating my loneliness and narcissism? What can I do to mourn the death of my laptop?

Although there is no single agreed-upon definition, a ritual is typically a deliberate action performed in a set sequence that improves our emotional state, by reframing an experience in a way that feels meaningful.

At the Ritual Design Lab in Silicon Valley, a small team of "interaction designers" is working to generate new rituals for modern life, with an eye to user experience. Created by Kursat Ozenc and Margaret Hagan, the lab crafts rituals for both individuals and organizations, including big hitters like Microsoft. The team's website offers a Ritual Design Hotline with a tantalizing promise: "You tell us your problem. We will make you a ritual." Meanwhile, its Ritual Inventory invites you to add any interesting ritual you've made or seen to its growing database. And its app, IdeaPop, helps you brainstorm and create your own rituals.
For example:
Ozenc is preparing to roll out a project called Pop-Up Prayer, which aims to give urban young professionals a way to pray when they're on the go. Here's how it works: An organization buys a prayer kit, puts it in a room where it's okay for a visitor to pray, and posts an online listing. You find the building using your smartphone (as with other location-based services), go to the room, take what you need from the kit, and use it to pray. Then you put everything back where you found it.

The first kit to be debuted will be geared toward young Muslims—or "Mipsters," as Ozenc calls them—and will contain a prayer rug, a compass, water, and a prayer book. Subsequent models will be geared toward Jews and Christians.
Read more about it.