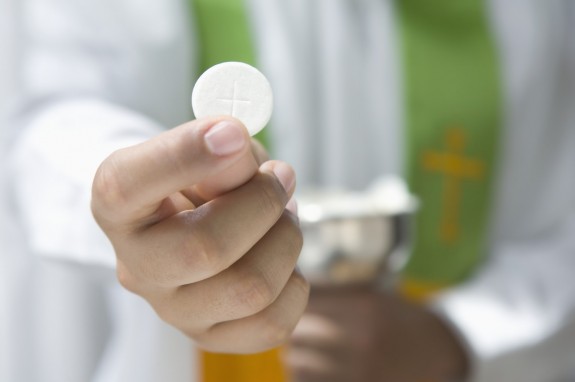 I wasn't aware of this—and, I suspect, most ordinary Catholics probably aren't aware of it, either.
From CNS:  
The German bishops are not the only bishops in the world to propose or adopt pastoral guidelines for allowing an Anglican or a Protestant married to a Catholic to receive the Eucharist under certain circumstances.

In fact, the Pontifical Council for Promoting Christian Unity encouraged bishops and bishops' conferences to develop such guidelines in its 1993 "Directory for the Application of Principles and Norms on Ecumenism."

…Bishops from Europe, North America, Australia and southern Africa have issued guidelines for allowing interchurch couples to go to Communion together on special occasions; most list those occasions as family funerals and the baptism, first Communion, confirmation, ordination or wedding of their children. Some bishops also include the couple's wedding and wedding anniversaries, as well as Christmas, Easter and Pentecost.

From region to region the guidelines reaffirm Catholic teaching that, as the directory said, "Eucharistic communion is inseparably linked to full ecclesial communion and its visible expression."

Full, regular sharing of the Eucharist will be possible only when the Christian churches experience full, corporate and visible unity, the Catholic Church continues to teach.

But, the directory also said, the Catholic Church "also recognizes that in certain circumstances, by way of exception, and under certain conditions, access to these sacraments may be permitted, or even commended, for Christians of other churches and ecclesial communities."

The directory – and bishops around the world who have issued guidelines – make special pastoral provisions for a married couple made up of a Catholic and a member of another mainline Christian church when both spouses are baptized in Christ and united in the sacrament of marriage, raising children and attending church together.