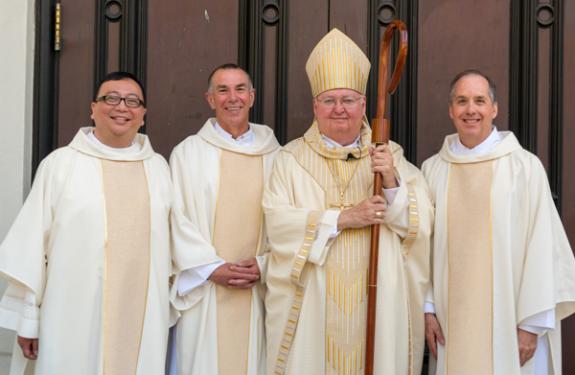 From The Valley Catholic: 
As they gathered with members of their families, their parish communities and other faithful from the Diocese of San Jose, three men were ordained to the Diaconate on May 19 at the Cathedral Basilica of Saint Joseph.

Carl A. Bugarin, Philip Andrew McCarty and Richard M. Noack were ordained before approximately 600 people in the Cathedral for the two-hour Mass.

"The scriptural foundations of the Diaconate do not raise too high a bar: Only that deacons be "reputable, filled with the Holy Spirit" and they be "dignified, not deceitful, not addicted to drink, not greedy for sordid gain, holding fast to the mystery of the faith with a clear conscience," said Bishop Patrick J. McGrath in his Homily. "To put it plainly, the deacon is to be "another Christ."
Congratulations and welcome, brothers! Ad multos annos!