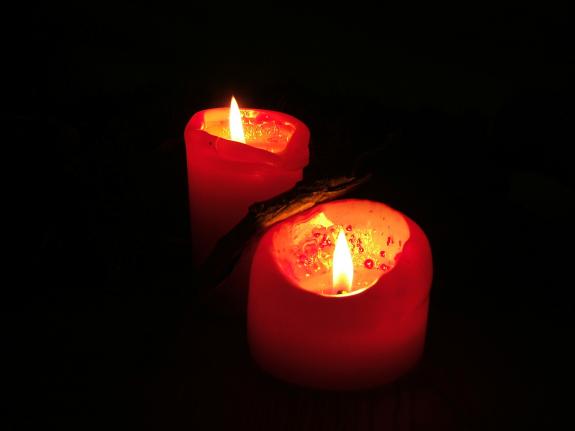 It's so simple and do-able, you have to wonder why more churches don't try this. Wales is now the least-religious part of the United Kingdom. As Sherry Weddell noted, when she posted this on Facebook:
In 1904, the country was swept by a great evangelical revival that closed down the pubs and resulted in large parts of the country where children grew up not knowing anyone who wasn't a believing, practicing Christian. But even in Wales, God has no grandchildren. And Catholics have been a small minority for hundreds of years.
But check this out:
Last Saturday, 21 members of the Catholic Church in South Wales broke new ground by going on to the streets of Barry and Newport to invite passers-by to light a candle, say a prayer and try coming to Mass next Sunday. The response was overwhelming – in the course of under three hours, about 300 passers-by accepted the invitation to light a candle. Nearly 100 wrote down a prayer intention.

Those who stopped were offered the chance to take a random scripture verse from a basket. Time and time again, the words received touched the hearts of those who chose them. "This has made me want to go back to Mass" said one woman. A gentleman picked out the words "do not be alarmed" and exclaimed "This is completely true! I am always alarmed! I'm going to take this with me when I visit my nan (who is sick) this afternoon and share it with her too. If she's well enough, I'd like to take her to Mass next week."

Two ladies spent a long time in prayer by the candles, but then went out of their way to find the person they spoke with first and said "thank you so much for stopping and inviting us". Others too said that they would be going to Church next week.

The mission was led by Madeline Page, employed by the Archdiocese of Cardiff as its Evangelisation and Education Officer. Madeline said, "To the best of our knowledge, this is the first event of its kind, with Catholics inviting people to light candles on the high street. All those who took part thought it was an amazing day and are eager to do it again!" Half the volunteers were young people from the Syro-Malabar Community and Couples for Christ; they were supported by adults who have worked with the Diocesan Evangelisation Team since it was set up in 2012.

This street outreach was one of three strands in a wider program of evangelization in the Archdiocese of Cardiff. Over 50 churches across South Wales have been distributing "invite a friend" postcards at Mass this month, and on Sunday 1st July the participating churches will give everyone who comes to Mass a beautifully illustrated book, with the artwork of Elizabeth Wang, all the words needed to follow that day's Mass, and a commentary allowing those new to the experience of Mass to understand what is taking place.