It became official tonight, when President Trump introduced him and his family during his announcement in the East Room.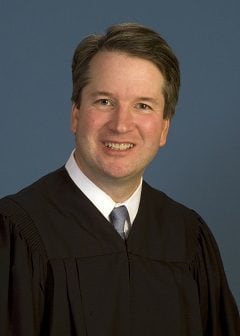 Who is he? From Kavanaugh's Wikipedia entry:
Kavanaugh was born on February 12, 1965 in Washington, D.C., and raised in Bethesda, Maryland, the son of Martha Gamble (Murphy) and Everett Edward Kavanaugh, Jr. His mother served as a Maryland state Circuit Court Judge from 1995 to 2001. He is a Roman Catholic and graduated from the Georgetown Preparatory School.

After graduating from Georgetown Prep, Kavanaugh attended Yale University and graduated with a Bachelor of Arts, cum laude, in 1987. At Yale, he joined the Delta Kappa Epsilon fraternity. He then attended Yale Law School, and graduated with a Juris Doctor in 1990. At Yale Law, he served as Notes Editor of the Yale Law Journal. He is married to Ashley Estes, a native of Abilene, Texas, who formerly served as Personal Secretary to the President in the White House at the same time as her future husband. They have two daughters.
On abortion:
Kavanugh has stated that he considers Roe v. Wade binding under stare decisis and would seek to uphold it, but has also ruled in favor of some restrictions for abortion. 

In May 2006, Kavanaugh stated he "would follow Roe v. Wade faithfully and fully" and that the issue of the legality of abortion has already "been decided by the Supreme Court." During the hearing, he stated that a right to an abortion has been found "many times", citing Planned Parenthood v. Casey. 

In October 2017, Kavanaugh joined an unsigned divided panel opinion which found that the Office of Refugee Resettlement could prevent an unaccompanied minor in its custody from obtaining an abortion.Days later, the en banc D.C. Circuit reversed that judgment, with Kavanaugh now dissenting.The D.C. Circuit's opinion was then itself vacated by the U.S. Supreme Court in Garza v. Hargan (2018).
During his speech in the East Room Monday night, Kavanaugh described being part of Washington, D.C.'s "vibrant Catholic community," a community, he said, "united by a commitment to serve." He spoke of serving as an altar boy when he was growing up, and serving meals to the homeless with Catholic Charities today. He also mentioned being a CYO basketball coach — and referred to his championship team from Blessed Sacrament School.
That seemed notable. When was the last time someone in the East Room said the words "Blessed Sacrament"?
Also of note, via NPR: 
He serves as a lector and usher at Blessed Sacrament Church in Washington, D.C. He also coached the fourth- through sixth-grade girls basketball teams at Blessed Sacrament, as well as a Montgomery County Recreation girls basketball team and the Classics AAU second grade girls basketball team.

He is friends with the president of the Arizona Cardinals, Michael Bidwell, who was a classmate at Georgetown Prep.
And he puts a premium on a quality that is often absent these days, humility:
During a speech at Catholic University's law school in 2015, a speech lots of people will be combing through, Kavanaugh spoke a lot about humility (and used a lot of sports metaphors likening judges to referees and umpires and the necessity of being consistent).

"To be a good judge and a good umpire," he said, "it's important to have the proper demeanor, really important, I think, to walk in the other's shoes, whether it be the other litigants, the litigants in the case, the other judges, to understand them, to keep our emotions in check, to be calm amidst the storm.

"On the bench, to put it in the vernacular, don't be a jerk. I think that's important. To be a good umpire and a good judge, don't be a jerk. And in your opinions, to demonstrate civility; I think that's important as well. To show, to help display that you're trying to make a decision impartially and dispassionately, based on the law and not based on your emotions."

He added, "We can't act like we're bigger than the game. There's a danger for arrogance, for umpires, for referees, but also for judges. And I would say that danger grows the more time you are on the bench. As one of my colleagues puts it, 'You become more like yourself.' And that can be a problem."