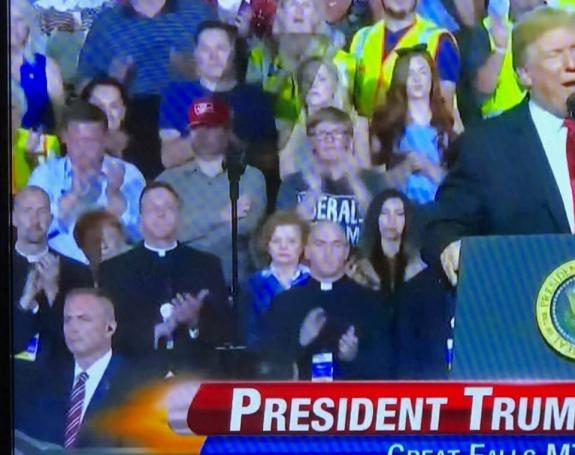 The above picture has started circulating around social media, a frame grab from President Trump's rally this week in Montana. It's not clear if these are Catholic priests, seminarians, deacons or Protestant clergy (who sometimes wear the Roman collar.) [UPDATE: They are Catholic priests. See below.]
A few points need to be made.
Can. 287

1. Most especially, clerics are always to foster the peace and harmony based on justice which are to be observed among people.

2. They are not to have an active part in political parties and in governing labor unions unless, in the judgment of competent ecclesiastical authority, the protection of the rights of the Church or the promotion of the common good requires it.
N.B.: the code goes on to note: Can. 288 The prescripts of cann. ⇒ 284, ⇒ 285, §§3 and 4, ⇒ 286, and ⇒ 287, §2 do not bind permanent deacons unless particular law establishes otherwise.
St. John Paul II had this to say, during a General Audience in 1993 (emphasis added):
[The priest] certainly retains the right to have personal political opinions and to exercise his right to vote according to his conscience. As the Synod said: "In circumstances in which there legitimately exist different political, social and economic options, priests like all citizens have a right to make their own personal choices.

But since political options are by nature contingent and never in an entirely adequate and perennial way interpret the Gospel, the priest, who is the witness of things to come, must keep a certain distance from any political office or involvement" (Ench. Vat., IV, 1195). In particular, he will keep in mind that a political party can never be identified with the truth of the Gospel, and therefore, unlike the Gospel, it can never become an object of absolute loyalty. Thus the presbyter will take this relativity into account, even when citizens of the Christian faith laudably form parties explicitly inspired by the Gospel. He must strive to shed the light of Christ on other parties and social groups too.


It should be added that the presbyter's right to express his own personal choices is limited by the requirements of his priestly ministry. This limitation too can be an aspect of the poverty he is called to practice following Christ's example. In fact, he can sometimes be obliged to abstain from exercising his own right so that he can be a strong sign of unity, and thus proclaim the Gospel in its fullness. Even more, he must avoid presenting his own choice as the only legitimate one, and within the Christian community, he should respect the maturity of the laity (cf. Ench. Vat., IV, 1196), and even work to help them achieve that maturity by forming their consciences (cf. Ench. Vat., IV, 1194). He will do what is possible to avoid making enemies by taking political stands that cause distrust and drive away the faithful entrusted to his pastoral mission.

The 1971 Synod of Bishops especially stressed that the presbyter must abstain from all political activism: "Leadership or active militancy on behalf of any political party is to be excluded by every priest unless, in concrete and exceptional circumstances, this is truly required by the good of the community, and receives the consent of the bishop after consultation with the presbyteral council and, if circumstances call for it, with the episcopal conference" (Ench. Vat., IV, 1197). Thus it is possible to derogate from the common norm, but this can be justified only in truly exceptional circumstances and requires due authorization.

In their generous service to the gospel ideal, some priests feel drawn to political involvement in order to help more effectively in reforming political life and in eliminating injustices, exploitation, and every type of oppression. The Church reminds them that on this road it is easy to be caught in partisan strife, with the risk of helping not to bring about the just world for which they long, but new and worse ways of exploiting poor people. In any case they must know that they have neither the mission nor the charism from above for this political involvement and activism.

UPDATE: Evidently, it's been confirmed that the men are Catholic priests. The following statement was issued by Bishop Michael Warfel, of the Diocese of Great Falls-Billings on Facebook:
I was not aware that the priests observed at the Trump rally would be in attendance. I was likely just as shocked as most to see that they were seated in a very prominent location in clerical attire behind the podium where the President would speak. Two of the priests were from the Diocese of Great Falls-Billings and two from the Diocese of Helena. I have contacted the two from the Diocese of Great Falls-Billings. They had been invited to the rally by a republican candidate running for office. One told me he is not a republican and I believe the other isn't either. They said in the line waiting to enter, there were people who spoke openly of their distain from President Trump as well as Democrats who attended the rally so it was not solely a republican event. A number were there to protest against him and many other just to see a president.

I happen to know that these priests rarely are not in clerical attire so that they were was not unusual. This doesn't take away from the negative optics! The told me that they didn't know they would be seated in the front row right behind where the President would be speaking. They thought they would just be in the midst of the crowd, likely on the side or in the back. I hope they learn from this.

I informed them that they should not have been in clerical attire at a partisan event. I also pointed out that they were used by being placed in such a conspicuous location which was certain to capture them on national TV. They essentially were duped.

I was able to catch part of the rally on TV but then had to leave to celebrate a Mass. For the portion I was able to watch, I didn't notice them clapping but then I didn't see the entire event. If they were clapping at an inappropriate comment, it is possible that they got caught up in what the majority were doing. Not an excuse, but an explanation. I myself had been invited to the rally but declined knowing that I would likely be used in the same manner. And I'm not what you would call a supporter of many of the President's policies.

I have received apologies from the two priests. It is highly unlikely that there will be a repeat appearance.

In Christ,

Bishop Warfel