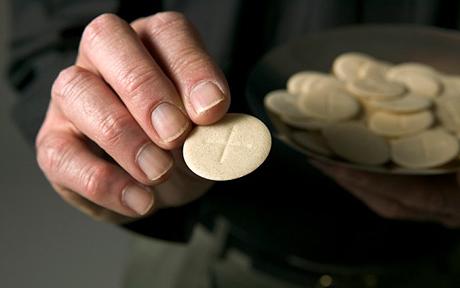 This reportedly goes beyond what has been discussed previously among the German bishops: allowing Protestants in interdenominational marriages to receive the Eucharist on a case-by-case basis.
From The Catholic Herald:
The Bishop of Würzburg has allowed all Protestants married to Catholics to receive Holy Communion at jubilee Masses for married couples in his cathedral.

Bishop Franz Jung, who was installed as bishop just last month, told spouses in "inter-denominational" marriages that they were welcome to "join the Lord's table" at the Masses, which are taking place on Thursday and Friday.

An article on the diocese's website says the bishop "expressly invited interdenominational [literally 'confession-uniting'] couples to celebrate the Eucharist".

The article says that, in the coming months, the diocesan committees will discuss the recommendations of the German Bishops' Conference on Communion of Protestant spouses. "But today I extend the heartfelt invitation to all mixed-confessional couples to join the Lord's table," the bishop adds.