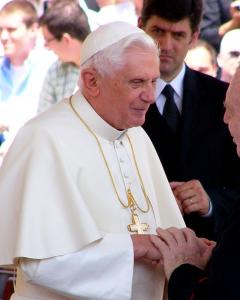 Edward Pentin, who broke the story last week, adds this tidbit today about one of the more persistent problems with the former nuncio's letter, those "sanctions" that nobody seems able to define or prove. Pentin spoke with "a source close to Benedict," after numerous reports cited the many public appearances the former cardinal made around the world, seemingly defying the orders from the pope:
Asked why Benedict did not issue a stricter instruction seeing as McCarrick had flouted the measures, the source close to Benedict said that "as well as being very active, the media and public opinion didn't speak any more about McCarrick, and sometimes it's better if something is sleeping to let it sleep."

He said it was important to be "very careful and prudent with McCarrick," noting that while McCarrick continued to make "many requests" for papal audiences, these were ruled out as "not possible" because such audiences would produce photographs that would give the misimpression that McCarrick's situation remained normal for a retired cardinal.

Asked if the Pope Emeritus' office would be willing to issue a statement to provide additional clarity, a spokesman said Benedict was "unable to meet" the request. A number of questions still remain, however, in particular the following:

Why were Benedict XVI's sanctions against McCarrick never made public, and given only in the form of a private instruction?
Why were the sanctions not properly enforced after they were ordered?
What role did Cardinal Bertone play in the execution of Benedict's order (in his testimony, Archbishop Vigano asserts that the cardinal had obstructed it)?