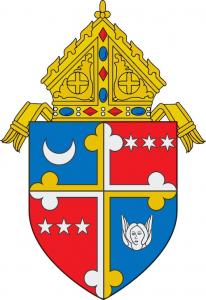 He posted this on his blog today:
For my shortcomings of the past and of the present I take full responsibility and wish that I could wipe away all the pain, confusion and disillusionment that people feel, and I wish that I could redo some decisions I have made in my three decades as a bishop and each time get it right.  As I have said in a series of letters to priests in the archdiocese, I hope you will sense something of my anguish for those who have suffered and my sorrow for any of my failures to be there for both the abused and all who now feel a sense of alienation.

In my heart, I now ask myself what is the way I can best serve this Church that I, too, much love.  At issue is how to begin effectively to bring a new level of healing to survivors who have personally suffered so much and to the faithful who have also been wounded by the shame of these terrible actions and question their bishop's ability to provide the necessary leadership.  Thus, among the many observations I have received in discussions with others is that, as part of that beginning of healing, the archdiocese would be well served by new leadership to help move beyond the current confusion, disappointment and disunity.

In recognition of the ongoing need for healing of abuse survivors and the whole Church of Washington, I have proposed a " season of healing" that begins with a special Mass tomorrow, September 14, the Feast of the Exaltation of the Holy Cross.  This liturgy, this necessary turning to God and his healing grace, will give voice to the pain and suffering of the survivors of clergy sexual abuse and failures in episcopal oversight, while also recognizing the pain and wound of the whole Church.

This first step in the necessary healing process for our Church will be followed by my meeting with Pope Francis about the resignation that I presented nearly three years ago on November 12, 2015.  Those called to serve the Church in a leadership capacity must recognize that we are to lead not only by word, but also by personal action.  We must be prepared to do whatever is needed, including stepping aside. This action on my part is an essential aspect of the healing so that this archdiocesan Church we all love can move forward.