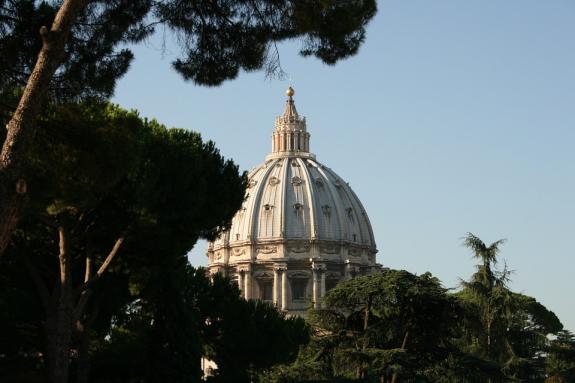 From CNN:
Pope Francis met with embattled Cardinal Donald Wuerl of Washington last Thursday in Vatican City, where they discussed the cardinal's personal situation, according to a source familiar with Wuerl's presentation to local priests in Washington on Monday.

Wuerl, who is archbishop of Washington, told the priests about the papal meeting, including Francis' advice that the cardinal should consult with his priests as Wuerl discerns his future. That was part of a larger conversation between the Pope and Wuerl, the source said.

rchdiocese of Washington Director of Communications Edward McFadden has said that Wuerl traveled to the Vatican last week, but declined to provide any specifics about the trip. The cardinal is a member of several powerful Vatican offices.

But the 77-year-old Wuerl is facing increasing scrutiny both over what he knew about abuse allegations against his predecessor, former Cardinal Theodore McCarrick in Washington, and how he handled abusive priests while he headed the Diocese of Pittsburgh.

Wuerl has "categorically denied" that any information about accusations against McCarrick was ever brought to him. He has also defended his overall record handling of clerical abuse in Pittsburgh, even while acknowledging "errors in judgment."

Still, Wuerl has been under increasing pressure to step down, including calls from prominent Catholics who say that healing in the church requires new leadership. Archdiocesan officials say he does not have plans to resign.

"Cardinal Wuerl has spoken extensively over the past two months, conveyed his profound sadness, apologies and contrition, and addressed every issue as it has arisen in a straightforward and transparent manner," said McFadden, Wuerl's spokeman.
UPDATE: The Washington Post adds this, describing a meeting the cardinal had with his priests on Monday:
There have been several smaller gatherings of priests in recent days to discuss the controversies — and Wuerl's leadership — but Monday's was the first one Wuerl hosted. According to two people familiar with what happened at the event — which included a group prayer, Q-and-A and dinner — Wuerl told the priests about his discussion with Francis.

"He asked the Holy Father how to move forward, and they told him he should discern with his priests," said one person who spoke with priests who attended Monday.

Wuerl hosts an annual Labor Day picnic with his priests, but this year — because of the controversies swirling around him and the church — he sent a letter last week saying "this year is different. While we still need to come together in priestly solidarity, this time we do so not with the accent on joy but with the emphasis on prayer and support for one another. There is a very real sense of being overwhelmed," he wrote in his invitation to his priests. "I would like us to simply share whatever our thoughts, our feelings, our sense of where we are as brothers bearing a cross together."

One person who spoke with two priests who were there said the priests who attended were quite split about whether Wuerl should resign, and whether he was to blame. The feeling of the meeting, the person said, was respectful.

Priests told Wuerl they were wounded by the scandals and didn't know what to believe. Some told him they found it hard to believe him when he has said he never heard rumors about McCarrick, which had swirled for years. Wuerl has denied hearing anything about sexual misconduct involving McCarrick and has defended his record in Pittsburgh.