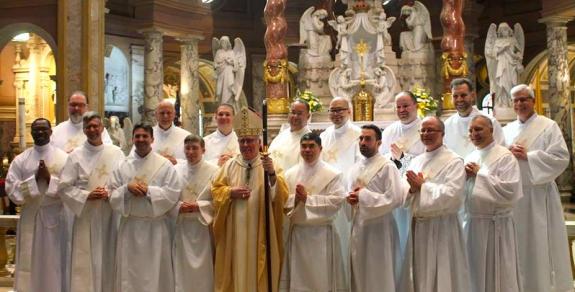 It was a combined ordination of deacons, both permanent and transitional.
Details from Western New York Catholic: 
Under the shadow of intense criticism of diocesan leadership, a Catholic congregation from all over Western New York came together at Our Lady of Victory Basilica in Lackawanna to witness the celebration of the ordination of 15 men to the order of the diaconate on Saturday, Sept. 15.

Eight men – Ronald D. Adamczak of Lancaster, David M. Augustyniak of Lewiston, Michael J. Dalessandro of West Seneca, Daniel G. Denecke of Marilla, Jorge L. Silva of Tonawanda, and Arthur T. Sullivan Jr., Paul F. Walter Jr. and Robert G. Warner, all of East Amherst, were ordained permanent deacons by Bishop Richard J. Malone.

Robert A. Contarin of East Aurora, Moses O. Ikuelogbon of Buffalo, Aaron F. Kulczyk of Batavia, Robert J. Owczarczak of East Aurora, Mario Gemar Racho of the Philippines, Patryk G. Sobczyk of Tonawanda and Justin J. Steeg of Westfield were ordained transitional deacons, preparing them for the next step on their journey to the priesthood.

Prior to the ordination Mass, all the candidates were asked to describe themselves and their religious journey into further ministry. Deacon Silva, originally from Puerto Rico and now married with two children, explained he was raised in a good Catholic family that always encouraged proper religious formation.

"I'm a man who loves my family and the Catholic Church," Deacon Silva said. "I love working with those people who have suffered a lot in their lives because they are the living Christ of our time. I am confident that in spite of my imperfections and limitations, the same Jesus who called me to serve him, is the same one who will give me the graces in order to be a good servant of Him and to announce His message by my words and deeds to his holy people."

"God's call to ordained ministry started as an idea and a desire that wouldn't go away," said Deacon Steeg. "I am excited to see what God has for me next as I seek to serve God's people here in Western New York."

During his homily, Bishop Malone complimented the basilica and ministry of Venerable Nelson Baker, who spearheaded the construction of the Lackawanna landmark. Bishop Malone discussed the meaning of the first reading, Jeremiah 1:4-9, which concludes, "Then the Lord extended his hand and touched my mouth, saying, 'See, I place my words in your mouth!,'" calling on the new deacons to be heralds of the Gospel.

"We thank God for calling you, dear brothers, each of you, and for saying yes to that call," the bishop said.
Congratulations and welcome, brothers! Ad multos annos!