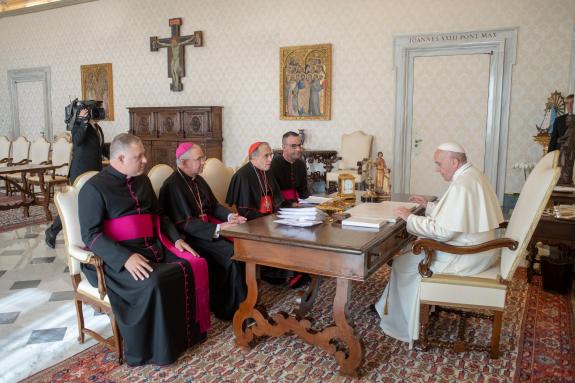 From The New York Times: 
The Department of Justice has sent a sweeping request to every Roman Catholic diocese in the United States not to destroy documents related to the handling of child sexual abuse, a sign that the federal investigation into the church could grow far more extensive.

Catholic bishops have been asked by the federal government to retain their files on a broad array of internal matters, including sexual abuse investigations, and the transfer of priests across state or international borders, or to treatment centers. The request includes documents contained in "secret archives" — the confidential files that are kept by each diocese.

News reports last week revealed that the Justice Department had opened an investigation into all eight Catholic dioceses in Pennsylvania, and the diocese of Buffalo in New York. This marked the first time the federal government had undertaken an investigation of the church's handling of abusive priests, a scandal that surfaced in the United States in the mid-1980s.

But this request to preserve files, first disclosed by Whispers in the Loggia, a site that closely follows the Catholic hierarchy, suggests that federal investigators are throwing a very wide net. The abuse scandal, long fueled by the shocking details in the church's own personnel documents, may now grow like an uncontrolled wildfire.

"Every diocese should assume that it is potentially under investigation," said Marci A. Hamilton, a law professor and founder of CHILD USA, a think tank at the University of Pennsylvania that studies child sexual abuse and prevention. "Given the crisscrossing paths of priests sent from one diocese to another across the United States, I can understand why someone in Washington would say, 'O.K., everybody needs to hold onto their evidence right now because we're just starting to sketch out where the pedophiles have been sent by the hierarchy.'"
Rocco had the scoop yesterday. Read his account.