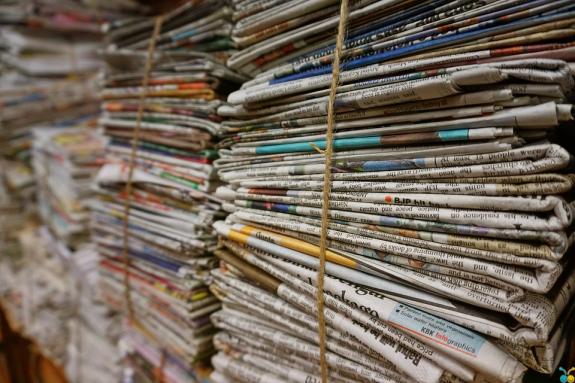 USA TODAY's Erik Brady wrote an opinion piece Friday that raised a lot of eyebrows, suggesting that Brett Kavanaugh should "stay off basketball courts for now when kids are around." That turned a quiet weekend into a shouting match on social media.
The Blaze summarizes what happened:
A USA Today sports writer incited outrage Saturday after he suggested that Supreme Court nominee Brett Kavanaugh should never be allowed to coach children's sports again due to the "credible" accusations of sexual misconduct against him.

The suggestion ignited a firestorm of controversy.

The writer, USA Today sports reporter Erik Brady, said Kavanaugh should never coach girl's basketball again absent an FBI investigation into sexual assault allegations against him. It's a possibility that Kavanaugh himself lamented during his opening statement before the Senate Judiciary Committee on Thursday.

"The U.S. Senate may yet confirm Kavanaugh to the Supreme Court, but he should stay off basketball courts for now when kids are around," Brady wrote. "The nation is newly vigilant on who coaches and trains its children given recent scandals in gymnastics and other sports."

Brady goes on to interview Edward McFadden, spokesperson for the Archdiocese of Washington. McFadden told Brady that Kavanaugh underwent an extensive background check in order to coach his daughter's basketball team. And because Kavanaugh has a clean background and no criminal record, he remains eligible to coach.

"But should he?" Brady questioned. "The nation is deeply divided. Sometimes it feels like we don't agree on anything anymore. But credibly accused sex offenders should not coach youth basketball, girls or boys, without deeper investigation. Can't we all agree on that?"
The Daily Caller adds:
A Friday USA Today article stating that Judge Brett Kavanaugh "should stay off basketball courts for now when kids are around" was re-edited the next day and the original tweet to the piece was deleted.

"The U.S. Senate may yet confirm Kavanaugh to the Supreme Court, but he should stay off basketball courts for now when kids are around," USA Today sports reporter Erik Brady wrote in the piece which has since been changed to an opinion column.

"A previous tweet contained a statement that has since been edited out of a sports column," tweeted USA Today on Saturday. "That tweet has been deleted. The updated opinion column and editor's clarification are here."
The clarification now introduces the re-edited column:
Editor's note: Supreme Court nominee Judge Brett Kavanaugh has told members of the Senate Judiciary Committee he loves coaching his daughters' girls basketball teams, but said in testimony Thursday "thanks to what some of you on this side of the committee have unleashed, I may never be able to coach again."  The intent of this commentary was to address that question. The column was re-edited to more closely reflect that intent and labeled to reflect it as the writer's opinion. 
The newspaper this morning printed an explanation of what went wrong:
We published Friday night a column about Supreme Court nominee Brett Kavanaugh after the judge testified last week that all the scrutiny cast on his past could impact his ability to coach youth basketball.

The column set out to answer the question Kavanaugh raised: Could he still coach? However, the story and social media post connected to it could be construed as implying more.

Our sports writer wrote a column on the accusations that Kavanaugh sexually assaulted Christine Blasey Ford while they were in high school and how that could now possibly impact his ability to coach young athletes. In the author's opinion, he thought it best to wait for the investigations to be concluded before Kavanaugh resumed his role, should he get the green light.

The writer said he never intended to malign Kavanaugh. But the way a sentence was written could be read to imply that the judge needed to stay away from children.

The column was shared thousands of times on Twitter.

Early Saturday, USA TODAY Editor Nicole Carroll called a group of us — including Sports, Visuals Desk and Digital Team — to review the opinion piece. We all agreed the language used went further than the intent of the column, and it needed to be updated. As a rule, we avoid taking stories down. Instead we add an editor's note atop the digital story to tell the reader that the story has been updated.

Carroll asked that two lines be removed from the column plus the tweet that used the most unclear line from the story, along with a photo of Kavanaugh with a team of girls that he coached. We felt the team photo wasn't appropriate for the topic of the column.

Our veteran sports writers also occasionally write opinions. However, we were not clear in letting readers know that. Nor could you tell from reading the reporter's Twitter or Facebook profile that he occasionally writes columns.

To be transparent, we removed the photo, removed two lines from the column, and made it clear in the headline that the column was opinion. We also deleted the original tweet. Then we disclosed these actions to our readers on Twitter and in the column itself.

Readers again responded, some thanked us for acknowledging the mistake, adding transparency. Others on social media continued to criticize us.

And today? Members of our team have been threatened on social media. We have had to notify law enforcement.

As journalists, we know what we sign up for. We seek truth and consider threats part of doing our job.

We get it right more often than not, and I write this because when we miss, you need to know that, too.
This morning, one of those quoted in the column, Ed McFadden from the Archdiocese of Washington, weighed in on Facebook:
So I spent part of Saturday dealing with USA Today on this column after it was published. They were unethical on a couple of levels. How? First, the reporter I spoke with never told me my comments would be used for an opinion article (I never spoke to the actual op-ed writer, but to a sports reporter who likewise wasn't told what his reporting would be used for). Had I known, I certainly would have had a different view on the issue and whether I cooperated. Second, they misquoted me on at least two occasions. Knowingly. Third, they misled readers about The Archdiocese of Washington's child protection policies despite my giving them accurate information. Because the information didn't fit with the author's narrative he simply ignored it.
It took me half a day to get them to correct the record. Meanwhile, they were dealing with their own issues for having portrayed Brett Kavanaugh as a pedophile. When you have to revise an opinion article four times, you should know you have an issue.

Unfortunately, this has been the quality of journalism I have had to deal with for the past three months.

*Addendum: the sports reporter I spoke with was apologetic and cooperative. He felt he was taken advantage of by the op-ed department. That said, he should have been transparent and never should have surrendered his notes.
Meanwhile, I can't help but notice that nowhere in the USA TODAY statement, explanation or clarification is there any expression of remorse, regret or anything close to an apology.
And journalists wonder why so many in America hate them.
As someone who has spent most of his life toiling in the news business, for better or for worse, let me just say: that sucks. All of it. USA TODAY can and should do better. Insinuating that a public figure may be a pedophile —with absolutely no evidence — is no small thing. This morning, the newspaper should be serving its staff a breakfast buffet of crow, with generous helpings of humility and free refills of shame.
And while threats on social media should never be taken lightly, when a publication engages in the irresponsible near occasion of slander, the last thing it should do is play the victim card.
Journalism in 2018. Heckuva job, USA TODAY. Heckuva job.