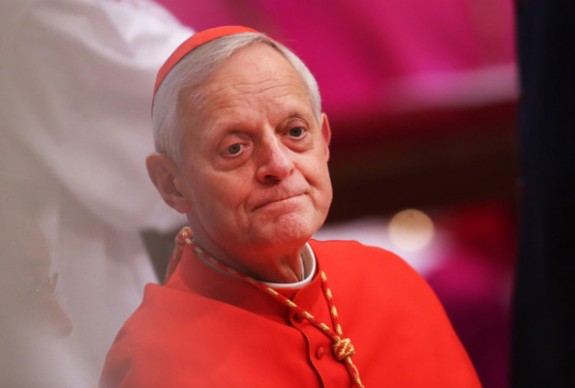 From The Washington Post:
Pope Francis on Friday accepted the resignation of Washington's archbishop, Cardinal Donald Wuerl, a trusted papal ally who became a symbol among many Catholics for what they regard as the church's defensive and weak response to clerical sex abuse.

But even as Wuerl becomes one of the highest-profile prelates to step down in a year of prominent abuse scandals, Pope Francis offered the cardinal a gentle landing, praising him in a letter and allowing him to stay on as "apostolic administrator" in the Washington archdiocese until a successor was found.

In his letter, Francis suggested he had accepted Wuerl's resignation reluctantly, and said he saw in the cardinal's request the "heart of a shepherd." Francis did not criticize Wuerl's handling of abuse cases, and wrote that Wuerl had "sufficient elements" to defend his actions.

"However, your nobility has led you not to choose this way of defense," Francis wrote. "Of this, I am proud and thank you."

The Vatican's announcement about Wuerl's fate comes almost a month after Wuerl, 77, first suggested he would urge Francis to accept his resignation. For Wuerl, the request to resign was a dramatic turnaround for the guarded, by-the-book cleric — and it underscored the anger he faced, in the aftermath of a detailed Pennsylvania grand jury report, about his handling of abuse cases during his 18-year tenure as the bishop of the Diocese of Pittsburgh.

But Friday, some Catholics said that Francis — with his message about Wuerl's decision — was being overly protective of an ally and overlooking the seriousness of the cardinal's case. A Washington diocese spokesperson said that Wuerl will retain his place in the powerful Congregation of Bishops, the section of the Roman Curia that helps to pick bishops.

"It's very disappointing," said David Clohessy, the former national director of Survivors Network for those Abused by Priests (SNAP). "This continues a long, long pattern in the church hierarchy — a refusal to admit what is so clear to the rest of us. Wuerl is guilty of serious wrongdoing. You can claim other bishops are even worse, and there is some truth to that. But the simple fact is that he endangered children."
Reaction from Michael Sean Winters in NCR:
Cardinal Wuerl is the last of his kind. He was ordained in 1966, so his entire seminary formation happened before or during Vatican II. He is a churchman, not an ideologue, a gentleman, not a bomb-thrower. He seems terribly out of place in the Washington of Donald Trump: Wuerl would rather receive a thousand unjust insults than return one of his own. He has been for 30 years a force of nature in the Catholic Church in this country, a workhorse for the conference and for the Vatican and for the dioceses he served. As I got to know him — not well, but enough to speak candidly with one another, and enough to consider him a friend, and enough to find myself crying when I received the news of his resignation — I came to realize Donald Wuerl is also a force of supernature, a man of grace in every sense of the word. I live in a different diocese now. Soon, Washington will get a new archbishop. But, during the Roman Canon, I will still whisper to myself, "antistite nostro Donaldo," and be grateful for the service to the church and the nation that he gave so intelligently and so faithfully.
From John Allen in Crux:
However fair that linkage may be doesn't matter. His resignation at this time, and under these circumstances, effectively sets it in cement.

(Granted, critics will say it's a curious sort of resignation since Wuerl has been named apostolic administrator, effectively leaving him in charge of the Archdiocese of Washington until a successor is named. Symbolically, however, the resignation still matters, because it comes off as a concession that a price had to be paid.)

Yet scandals often have the paradoxical effect of both clarifying and distorting. They clarify in the sense that they force institutions to face truths they often do their best to avoid, but they also distort in that they generate so much noise and commotion that other important truths can be blocked from view.

In Wuerl's case, one of those truths is that while the abuse crisis is now a critically important chapter in his story, it's hardly the entire narrative.
Make no mistake: Cardinal Donald Wuerl resigned today because of allegations of mishandling cases of clerical sexual abuse, and if he were to die tomorrow, his role in the abuse scandals would be how his obituary opened.
From Fr. Raymond de Souza in the National Catholic Register: 
When the grand jury report was released, Cardinal Wuerl launched a special website precisely to defend his record in Pittsburgh. That was so grave a miscalculation of the public mood that Cardinal Wuerl took it down within a day.

On many other matters — catechesis, Catholic education, priestly formation — Cardinal Wuerl was exemplary and more than earned the praise Pope Francis showered upon him.

It was the McCarrick matter that brought him down. Precisely, his repeated insistence that he did not know about Cardinal McCarrick until the Archdiocese of New York announced in June that an allegation of sexual abuse of minor had been "substantiated."

His priests did not believe him. They thought that he was lying in public and lying to them. When Archbishop Carlo Viganò wrote that Cardinal Wuerl "lies shamelessly" in his "testimony" published in late August, it confirmed conclusions that many Washington priests had already arrived at.

Further details from Archbishop Viganò's testimony have subsequently been confirmed by the Vatican, most recently by Cardinal Marc Ouellet, the prefect of the Congregation for Bishops, who acknowledged that the nuncios in Washington were informed about Archbishop McCarrick and the restrictions placed upon him.

It is simply not possible that the nuncio in Washington, communicating restrictions from the Holy See upon Archbishop McCarrick for sexual misconduct, would not have told Cardinal Wuerl about what was being done to his predecessor, still resident in the archdiocese.

But it is not necessary to conclude that Cardinal Wuerl was lying about his ignorance regarding his predecessor; the important factor in his resignation now is that he could not convince his priests that he was telling the truth.
From Christopher Altieri in The Catholic Herald (U.K.):
We see an unmistakable pattern emerging. By accepting Wuerl's resignation, but also keeping him on as Apostolic Administrator, the Pope shows he is working to a particular modus operandi.

There seem to be three basic steps: (1) ignore criticism and impugn critics' motives; (2) when that becomes impracticable make a big show of doing something, without actually doing much of anything; (3) if necessary, remove a high-profile figure, but not really.

With Cardinal Wuerl, Pope Francis has done exactly this: he is officially out, and also officially in.
You can read the letter from Pope Francis and a roundup of statements at the Archdiocese of Washington website.